Railroad Town in the Fall
Saturdays and Sundays in September and October
Events vary by date. Please see the Schedule Below.
The Farm Machinery Building is open from 10 am - 4 pm Fridays and Saturdays, Noon - 4 pm on Sundays
Regular Admission Fees Apply
For more information call (308) 385-5316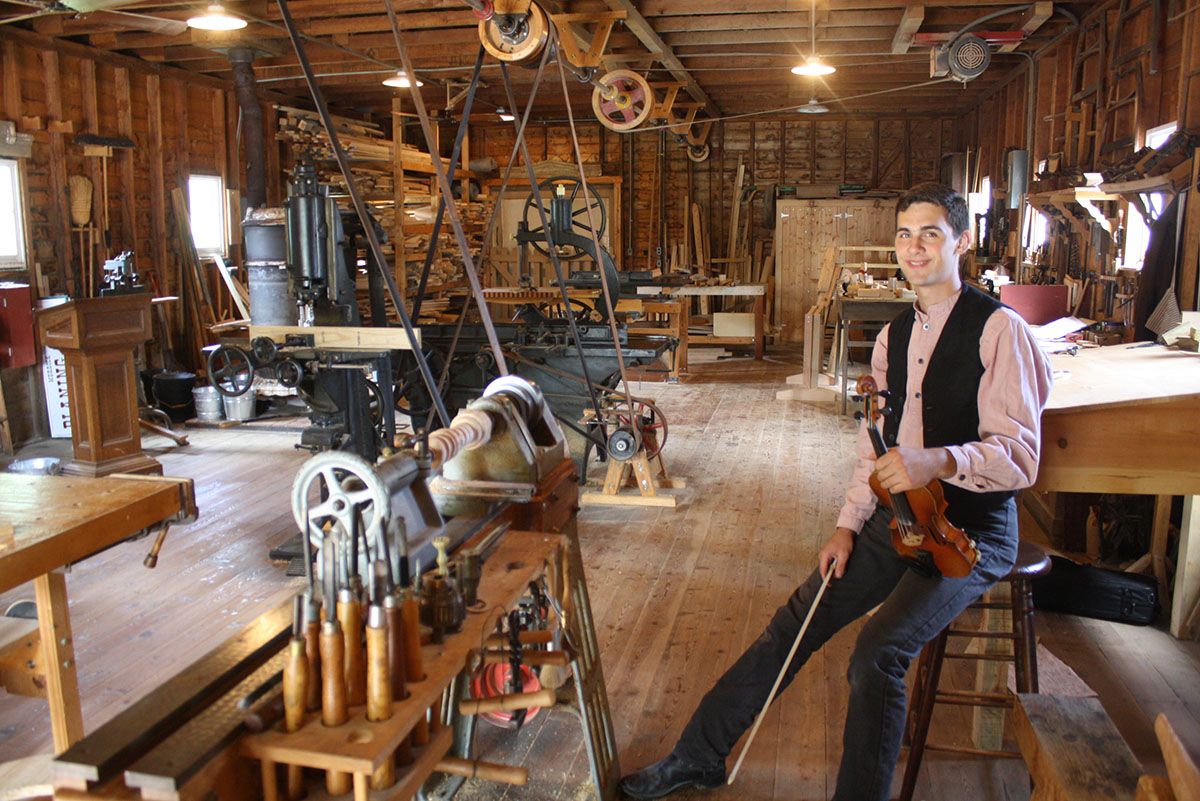 Fall is one of the best times of the year to visit the Stuhr Museum grounds. With over 200 acres to explore we are excited to offer you a chance to go for a walk on our grounds or perhaps meet with one of our historical interpreters in Railroad Town at select sites for outdoor experiences on the weekends in September and October.
We will have the Silver Dollar and the Mercantile open on most dates, and we may even have some special offerings in the Silver Dollar. Watch this page and as details develop we will post information here. Most of the Trade Sites will be open both days.
While the houses will not be open, we will offer special guided tours during the course of the day. Just follow the instructions on the signs when you enter Railroad Town so you know where to meet a guide.
As an added bonus we are keeping the Farm Machinery Building open on Friday, Saturday and Sunday through the end of October! If you haven't seen our vast  and unique collection of farm tractors, buggies, wagons and more, it's worth the trip out to take a look. 
Here's what we're offering for fall:
September 19th and 20th – A Hunting We Will Go – Mr. Dack will set up his hunting camp in front of the Blacksmith shop. He will demonstrate casting bullets, packing for camp, camp set up, describe and visit about butchering game, trapping game and the preservation and preparation of game.
September 26th and 27th – Cast Iron Chefs. We have some rather impressive Dutch Oven Chefs who work here who have challenged our new Director, Chris Hochstetler, to a Dutch Oven Cook Off. Each chef, must plan and prepare over the course of the weekend a main dish, bread and dessert to be judged. The challenging chefs are Randy Dack and Kay Cynova. Take time while you are out Junk Jaunting this weekend to stop out and see how the cooking is going. They will set up in the alleyway behind the Blacksmith Shop.
October 3rd and 4th – Behind the Screams – the Ghosts are Coming for Hallowe'en! Details pending.
Friday and Saturday evening October 9th and 10th – All Hallows – evening programing from 6:30 to 9 p.m.  Tour through Shadowlands and more! (Pre-sold Ticket Event). Please visit the All Hallows page for more details.
Sunday October 11th - Encore of Behind the Screams – the Ghosts are Coming for Hallowe'en!
October 17th and 18th – Preparing the Homestead for Winter - We will be at the Menck Cabin at the Road Ranche just north of Railroad Town this weekend getting all the buildings ready for a long Nebraska Winter. More details pending.
October 24th and 25th - Natural Dying at Stolley Farm. Nancy Buettner will be leading a fun weekend of demonstrations and more both days in the yard around the Stolley House on the south end of Railroad Town. Details pending.
Admission is $10 for adults, $8 for kids and free for Stuhr Museum members. For more information call (308) 385-5316.