Welcome Home Event
9 am - 5 pm Saturday, July 20th
All events are free and open to the public
For more information call (308) 385-5316
 
JUST ADDED! Helicopter Landing at 2:30 pm in the southern field by the rural church!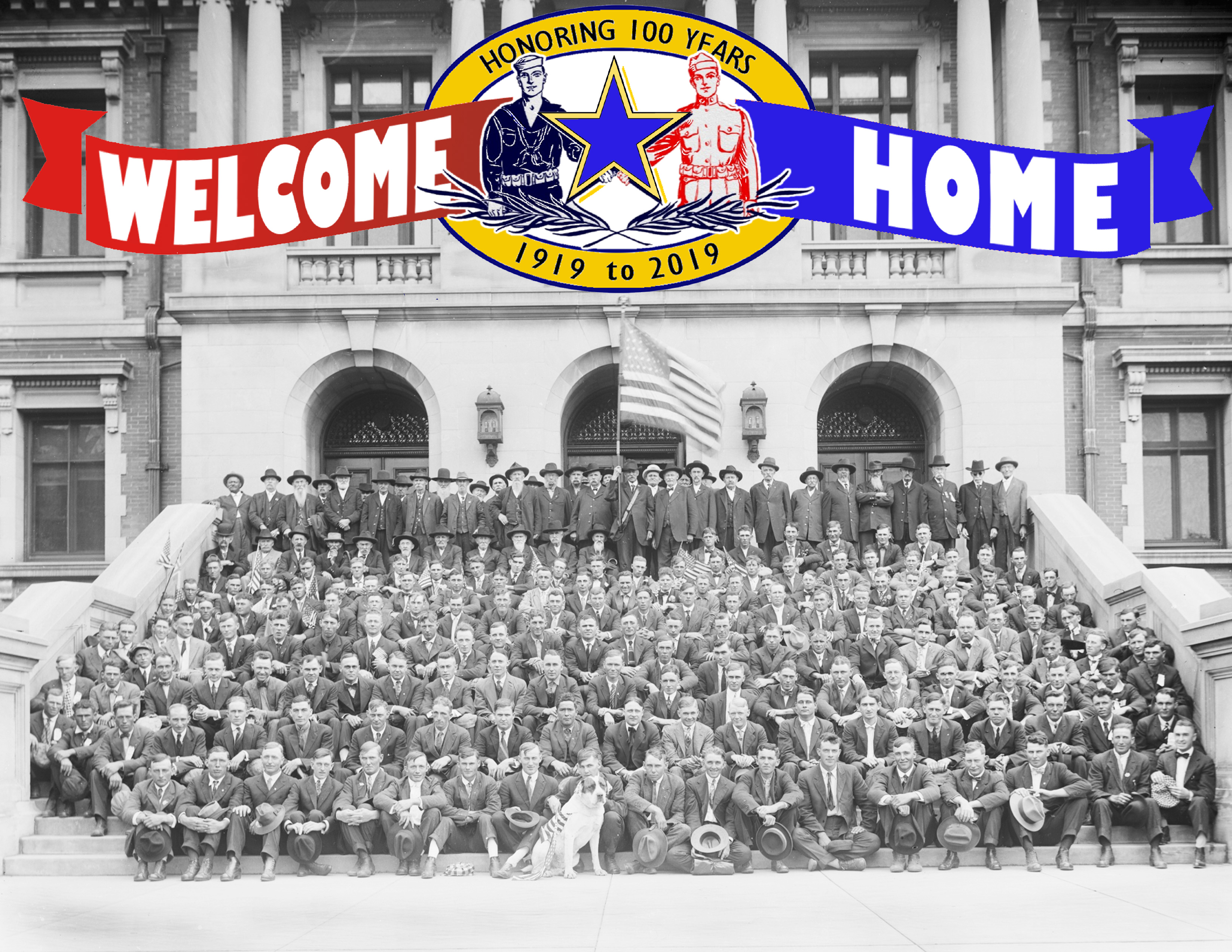 In the summer of 1919, hundreds of Hall County residents gathered to welcome home the brave soldiers returning after the end of World War I. To commemorate that anniversary, Stuhr Museum is hosting a free, community wide celebration during our "Welcome Home" event on Saturday, July 20th.
This event is a community collaboration and will feature live music, presentations about World War I, a motorcycle show, a recreation of a historic photo, fun in Railroad Town and much more. The day culminates at 6 pm with a performance by the Offutt Brass outside of the Stuhr Building. In addition, the organizers of this event extend a special invitation to veterans of all branches of the military to help recreate the photo on the top of this page. At 4 pm, photographers will line up available veterans in front of the Stuhr Building for the photo. 
The day's events include:
●A concert by the Offutt Brass at 6 pm outside the Stuhr Building
●A helicopter landing at 2:30 pm in the field near the rural church

●A Veteran Motorcycle Show and Shine beginning at 10 am and running through 4 pm

●A Veteran Photo project run by Brad Mellma. Veterans are encouraged to come to the Stuhr Building at 3:30 pm for a 4 pm photo recreating the above photo taken at Hall County of World War I soldiers. For more information call (308) 382-4400.
●Historic presentations in the Stuhr Building including:
     ●"Drums and Guns: Military Overview of WWI by Dr. Doug Biggs at 10 am
     ●"Nebraska and the Homefront During WWI" by Dr. Jeff Wells at 11 am
     ●"Story of the Poppy" by Travis Karr and Pam Lancaster at Noon
     ●"Lucky Ears: The Music of WWII" by Jean Lukesh and Ben Kuroki at 1 pm
     ●"Music of the World Wars" by Dave Marsh at 2:30 pm
●A hospitality "Canteen" for veterans and active duty military staffed by community organizations

●Food trucks and specials at the Silver Dollar throughout the day

●The Cathedral Brass will perform at 1 pm in the Hornady Family Arbor
●"The Battle of the Rinds" watermelon eating contest at 2 pm in the Hornady Family Arbor sponsored by Gary Quandt
●Speeches at 5 pm including Mayor Roger Steele, Hall County Board Supervisor Pam Lancaster and Major General Daryl Bohac, Adjutant General Nebraska National Guard

●Railroad Town will be open from 10 - 5 pm

Stuhr is proud to be able to honor past and present military veterans during this historic, fun day which is free and open to all. This event was made possible with the help of the Hall County Historical Society, the Nebraska Humanities Council, Grand Island Tourism, Central Community College and many others. For more information call (308) 385-5316. 
Welcome Home 1

Welcome Home 2

Welcome Home 3