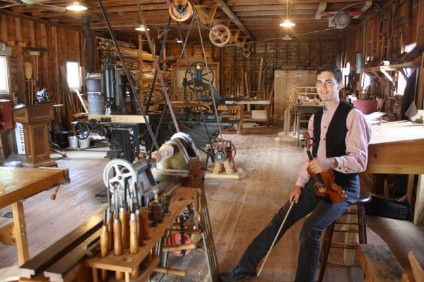 Welcome to Railroad Town, Nebr.!
As we move closer to spring, everyone is looking forward to warmer weather and the return of the citizens of Railroad Town on May 1st! You can start to plan now to visit us on any day during the week,  one of the summer holidays or to look towards the fall and winter events, including the Harvest Fair on September 14th & 15th, All Hallows on October 11th and 12th, and Christmas Past and Present on December 7th, 8th, 13th & 14th.
The citizens of our fine community will once again return to daily activities on Wednesday, May 1, 2019 and we will be looking at the events of the year 1899! We look forward to all of your future visits!
---
Railroad Town Nebraska 1899
By the end of 1898 the Spanish American War had come to an end and the peace treaty with Spain was signed on February 10th 1899, having been ratified by Congress on January 9th. Through this treaty the United States acquired Puerto Rico and Guam. The U. S. paid Spain for some holdings in the Philippines, and Spain also relinquished any claims on Cuba.  Unfortunately, an uprising in the Philippines against the United States would carry on from February 4th through to an official end date of July 2nd. Some groups would continue to battle the U. S. for several more years.
At the invitation of the Czar of Russia, the U. S. and 25 other nations assembled for the first international discussion of the problems of warfare and armaments, held May 18 to July 29 at The Hague. The primary accomplishment of this gathering resulted in the establishment of the Permanent court of International Arbitration.
Popular songs published in 1899 were A Bird in a Gilded Cage, The Stars and Stripes Forever and My Wild Irish Rose.  Published books included Janice Meridith by Paul Leicester Ford, McTeague by Frank Norris, The Gentleman From Indiana by Booth Tarkington, The School and Society by John Dewey, Richard Carvel by Winston Churchill, The Theory of the Leisure Class by Thorstein Veblen and Fables in Slang by George Ade.
1899 would also see the formation of the Christian Commercial Men's Association, better known later as Gideon's International. Traveling salesmen at a meeting in Wisconsin formed the group and they are best known for placing bibles in Hotels.
In Nebraska, Boone County is hit by a storm of large hailstones, ice and winds that rivaled a hurricane on April 26th. The storm, which began with heavy hail, resulted in the destruction of homes, loss of trees and early crops and the death of livestock. Union Pacific Telegraph wires were damaged for nearly a quarter of a mile, and the storm just barely scraped the town of St. Edward. Property loss was estimated at $25,000. April was not kind to communities along the Missouri river as there was major flooding along that route in the last half of April, and severe weather would continue to take a toll well into May. A deadly tornado would hit northern Hamilton County, destroying around $100,000 worth of property. It was reported by the state fair board that there would be no state fair this year due to the exposition in Omaha.
Near Grand Island Henry Sanders would open a new resort called "Riverside" at a point on the Wood River near the old Blunk Mill, and John Gawley was charged with embezzling $2500 of the funds of the Grand Island Banking company. Claus Stuhr, a brother of Peter Stuhr, died May 1st, and professor Hargis was planning to have a cement walk laid on two sides of his residence.
In Railroad Town we are to have a new covered area between the Mercantile and the Platte Valley Independent buildings that should prove to be a comfortable and shady area for visitors to town to gather. Improvements were made to the interior layout of the Hardware store and they have installed a new window display platform. The membership of the G. A. R. have already arranged for their Memorial Day speaker, and there is to be a carriage competition in June. Celebrations do not end there, because plans are already underway for a grand July 4th celebration.
What else is new? We most kindly suggest that you make a visit to Railroad Town at your earliest convenience and learn this for yourself!
---
Below is a map of Railroad Town, Nebr. that you can download and print.