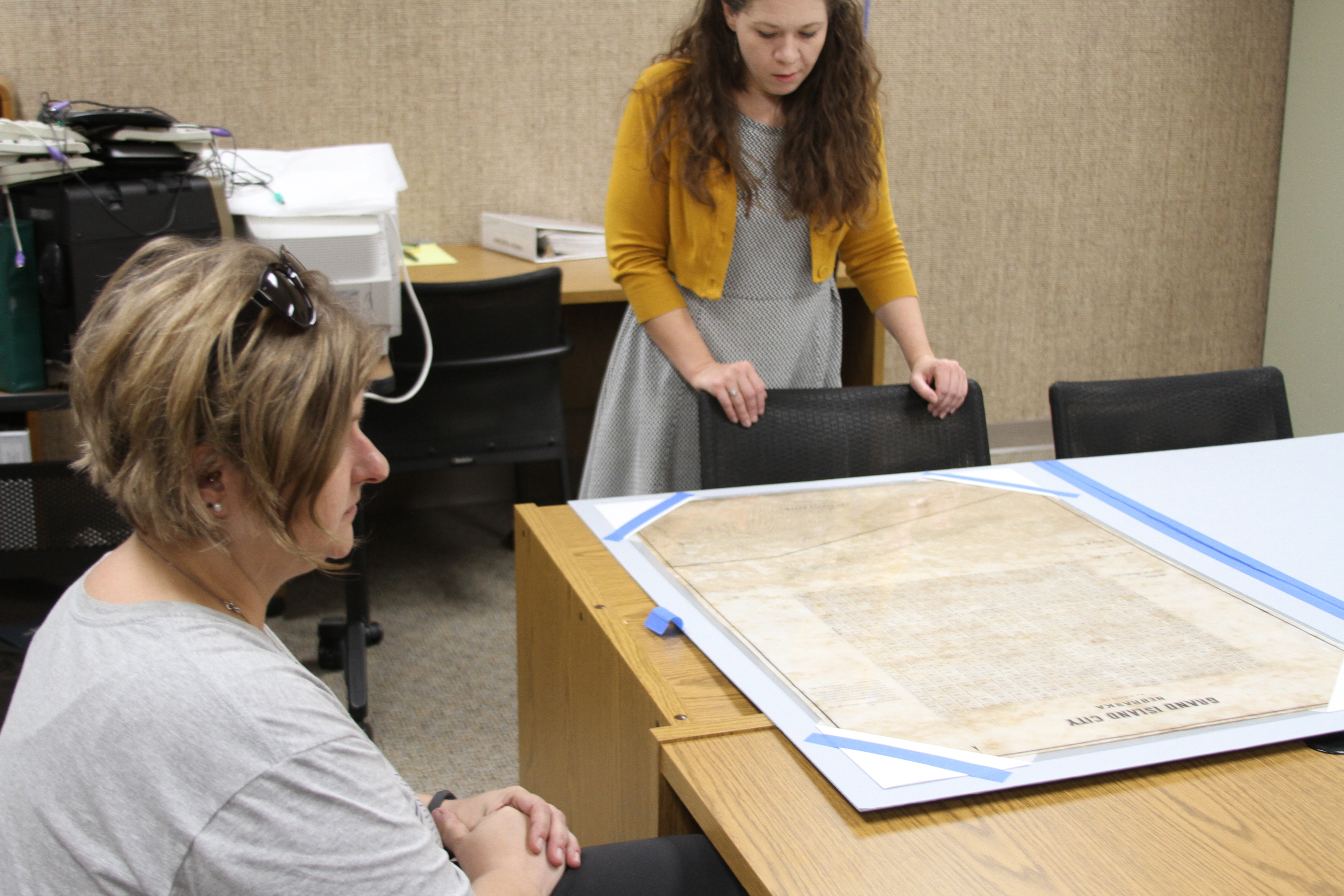 The map is not very detailed, but it did the job.

Measuring 42 inches tall by 28 inches wide, the map depicts R.C. Barnard's conception of the town of Grand Island in 1857. During its useful life span, the map traveled overland and across the ocean, showing what a life on the Nebraska plains might look like. After that, it was stored until 1967 and when it was donated from the Hall County Historical Society to Stuhr Museum it was decaying and at risk of completely falling apart.
That's where Hilary LeFevere stepped in.
LeFevere is a Paper Conservator for the Ford Conservation Center in Omaha and has spent time in the last year restoring the map. She called it one of the greatest challenges of her career. 
"I see a lot of things get backed on bad material," she said. "This was one of the most difficult [backing] removals I've ever done."

Part of the problem, LeFevere said, was the map was attached to a thick particle board that was both damaging to the map and painstaking to remove. She and her colleagues had to take the entire board off using a variety of methods, then wash the map in PH neutral water. They then lined the map onto rice paper and deal with "significant losses" to the original material.
After repairing the losses and getting the map backed, they were ready to return this important piece to Stuhr Museum. 

Another issue, she said, had to do with the size. While maps come in a variety of sizes, the large map was difficult because it was so big and so delicate.
"I never expect a usual size for a map," LeFevere said. "The size made it difficult. It was a very dramatic restoration."
The map will remain in Stuhr's archives and might make an appearance in a future exhibit, Kari Stofer, Stuhr's Curator of Exhibits, said.