Go Big Give
Thursday, May 3rd
Donate to the Stuhr Museum Foundation!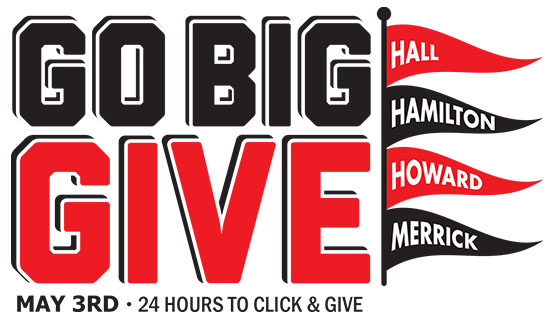 Stuhr Museum is taking part in Go Big Give, a 24-hour online giving event on May 3, 2018 and we want you to help us!
Donations to Stuhr Museum during Go Big Give and its pre-giving period grow with added match pool funds and incentive prizes given throughout the day. Your minimum donation of $10 has a chance to be much more as Stuhr Museum will compete with other non-profits for $35,000 in marching funds. 
You can help Stuhr Museum during Go Big Give in several ways:
-Give to Stuhr Museum during Go Big Give's pre-giving period which is April 26 - May 2. Simply go online to www.gobiggive.org to give and select the Stuhr Museum Foundation as your agency. The groups with the most unique donors during the pre-giving period will be eligible for additional dollars. 
-On Thursday, May 3, log onto the Go Big Give site or log onto www.stuhrmuseum.org and donate. The giving starts at 12:01 am and runs to 11:59 pm on May 3rd and there are special prizes for the non-profit with the highest per-capita giving from 9-10 am, matching prizes from 5:50 - 5:55 pm and other match goals throughout the day. 
Last year Go Big Give raised over $603,000 for the community and over 100 nonprofits participated. This year the organizers are looking for even more participation and we would love for you to consider the Stuhr Museum Foundation as part of your plans for this big day. Your gift ensures that Stuhr Museum continues to thrive and grow: to offer new exhibits, programs, and experiences that will serve a 21st century audience, and to ensure that Stuhr Museum remains Nebraska's premier living history museum.
For more information about this special day of giving or any of the services provided by the Stuhr Museum Foundation please give us a call at (308) 385-5131 or email keckhardt@stuhrmuseum.org.