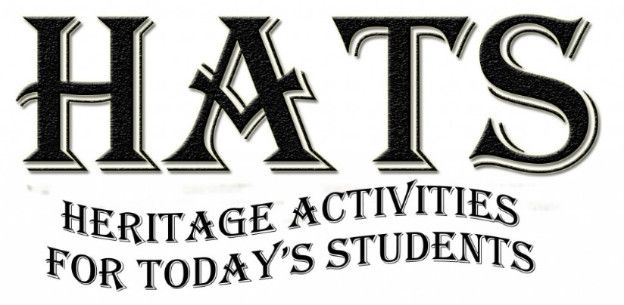 2020 - 2021 HATS Class Information and Links
---
Stuhr Museum is carefully monitoring the Covid-19 situation in relation to any classes offered on the museum grounds and will be following rules put forth in the Directed Health Measures of Hall County and the State of Nebraska.

For information on Virtual HATS classes, please click here.
---
For questions concerning H.A.T.S. Class call 308-385-5316 or e-mail Pam Homolka.
---
H.A.T.S. CLASSES – ONE HOUR
KINDERGARTEN
---
H.A.T.S. CLASSES - TWO HOUR
FIRST GRADE
---
SECOND GRADE
---
THIRD GRADE
---
FOURTH GRADE
---
FIFTH GRADE
19th CENTURY SCIENCE & TECHNOLOGY - TRADES
---
HATS CLASSES – FIVE HOUR DISCOVERY DAYS
Discovery Days suitable for Fourth Grade level and above
---
Notes on the H.A.T.S. Two Hour Classes
We ask that you use our pre-scheduled class times of 9:00-11:00 or 12:30-2:30. However, we know some schools have long distances to travel and may not be able to make that work. If these times do not work for you, please let us know right away when scheduling so we can best meet your needs. 
Students are welcome to bring their lunches to eat either before or after classes. If you plan to do this, please let us know when registering so we make sure someone is available to meet you for check-in. 
We have very limited interior areas for lunch, and their use must be scheduled ahead of your class day. 
When the weather is more favorable, there are a number of outdoor locations for lunch.  
Self-guided museum tours may be added before or after a H.A.T.S. class for an additional $2/person.
---
Notes on the H.A.T.S. Discovery Days Five Hour Classes
These structured classes provide in-depth look at topics that are taught in the (H.A.T.S.) program and can be selected by the teacher to meet the special needs of the class and its curriculum. All of these classes are first-person, living history experiences and are crafted for 4th grade students and up. 
---
Custom Classes or Programs
Museum Educators are willing to work with you to develop a unique, one-of-a-kind experience for your students. Our staff can help you plan, prepare and implement your program either in the class room or at Stuhr Museum.  Call 308-385-5316 ext. 204  or email education@stuhrmuseum.org to request more information.
---