Special Report - Hall County: Quarantined
During this special report Stuhr Museum's Curators take a deep dive in to Hall County's history of dealing with infections, diseases and the anxiety surrounding them. New articles will come out every Friday. If you would like more information or have questions, please shoot us an email at info@stuhrmuseum.org. 
The War Against the White Plague: Healthcare Workers Combating Tuberculosis in the early 20th Century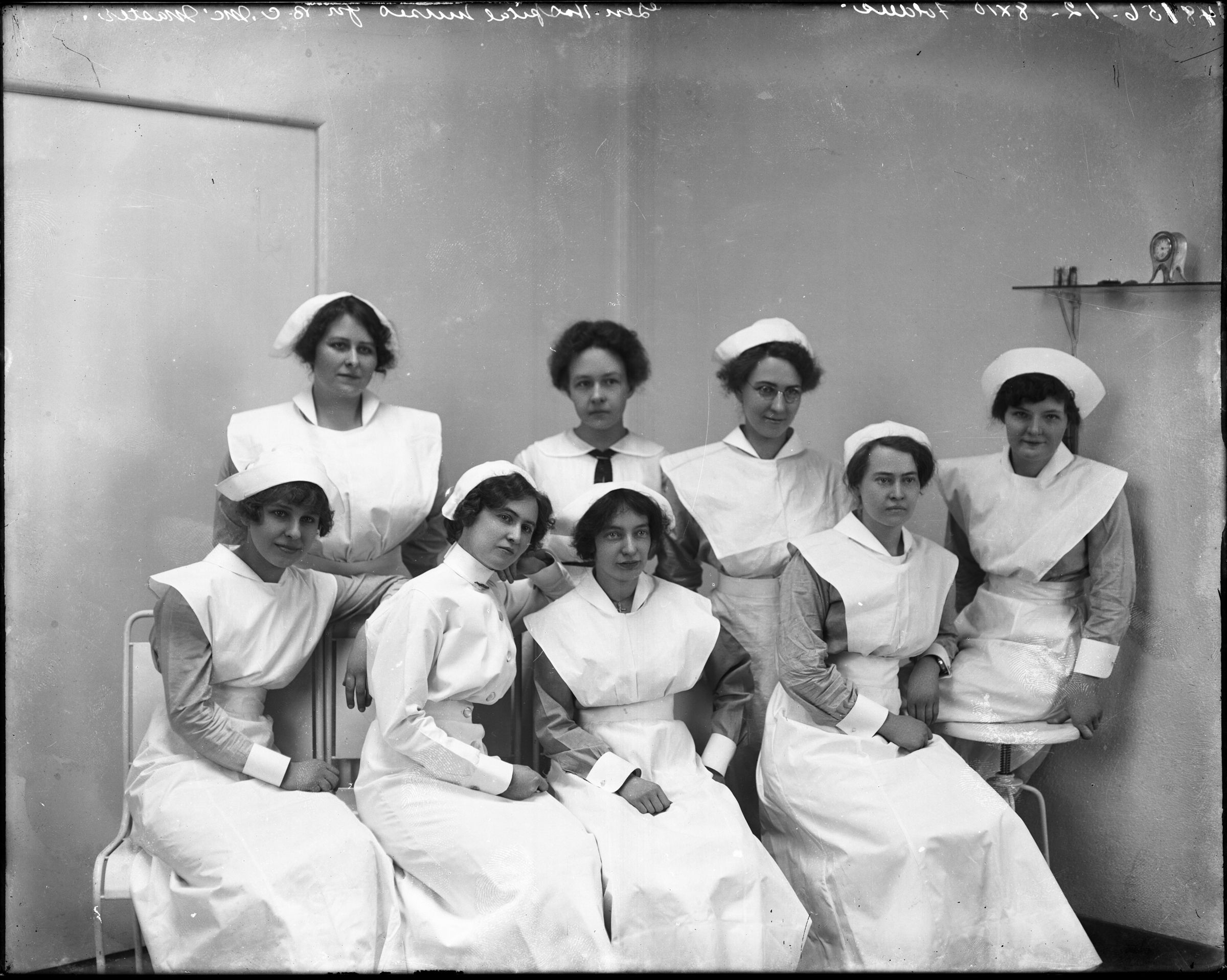 By Robb Nelson, Exhibits Curator at Stuhr Museum of the Prairie Pioneer
Healthcare workers in the United States are no strangers to putting their health and well being on the line in the service of their communities. At different moments in the history of this country, doctors, nurses, and other health care workers have put the interests of their patients above themselves in order to prevent the spread of epidemic diseases. Nowhere has this sacrifice been more visible than during the fight against tuberculosis in early part of the 20th century.
 In 1900, tuberculosis was the leading cause of death in America. During the following decade TB was responsible for 1 in every 7 total deaths in the United States and Europe.[i] In the early 20th century tuberculosis was popularly known as "consumption" due to the weight loss endured by sufferers of this disease, and more grimly known as "the white plague" due to the paleness of the skin and the thick, white phlegm that victims often coughed up, along with blood. [ii]
Nurses and doctors throughout the United States risked their own health on a daily basis to help in the fight against tuberculosis. In many instances this proved to be a dangerous decision. Estimations in the 1920s and 1930s reflect that 12% of nursing students contracted tuberculosis during their training, and of all nurses nationwide who received aid from the American Nurses Association Relief Fund, over half had been disabled due to tuberculosis.[iii]  Statistics like these frightened away many healthcare workers from accepting positions in tuberculosis hospitals, and had an influence on the course curriculums in various nursing schools across the country. In 1937, only 12 out of 50 nursing schools in the U.S. offered instruction on tuberculosis treatment to their nursing students. Many nurses feared being given positions in hospitals that treated tuberculosis, and many school administrators built their course curriculums with this in mind.[iv]
Tuberculosis is spread from person to person through the air when a person coughs, sneezes, or speaks. Given this fact, nurses became the most vulnerable persons at risk of contracting tuberculosis because they often cared for highly ill patients for several hours at a time. Nurses also assisted physicians during medical and surgical procedures; all at a time when preventative procedures such as wearing masks and gloves were by no means universal practices.[v]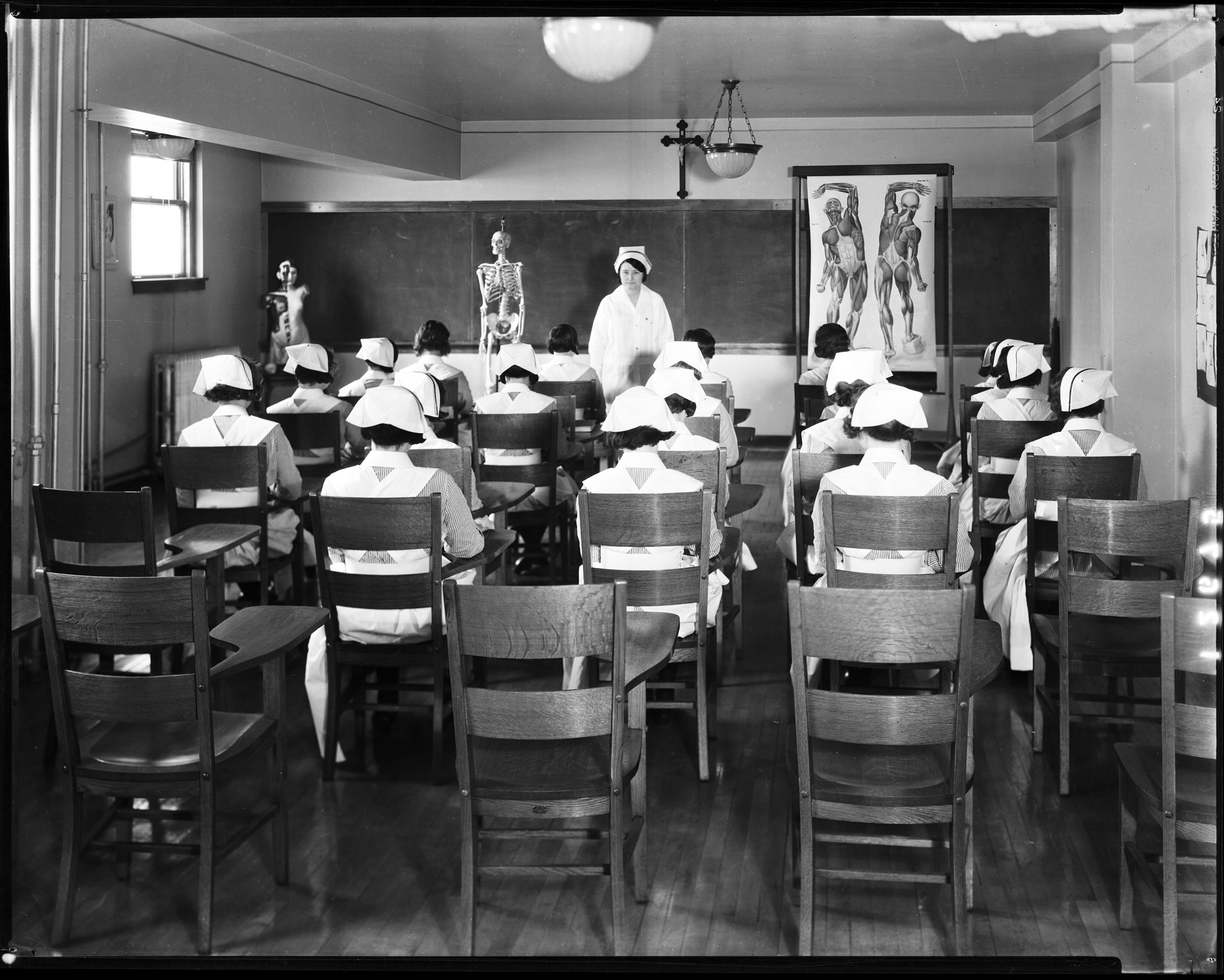 This fear did not dissuade everyone, and some nurses and doctors who contracted TB and survived, chose to use their stories to inspire other TB patients. In one example, a former nursing student who contracted TB during nursing school later returned to the nursing field as a specialist in tuberculosis treatment. When asked about her decision she stated "I am specializing in tuberculosis nursing because I understand tuberculosis patients so well and I'm able to give them the encouragement that a nurse who has never been sick could not give."[i]
In the early part of the 20th century doctors and nurses across the nation dedicated their lives to the fight against tuberculosis. This can be viewed on the local level with the story of Dr. Nelle Deffenbaugh originally from Buffalo County, NE. Throughout her lifetime, Nelle was a part of a medical family. Even before her marriage, Nelle Carr had three brothers who all grew up to become doctors. She later married Martin Deffenbaugh, who was also a doctor, and served as a surgeon during World War I. When she became a doctor herself, Nelle Deffenbaugh practiced medicine with her husband in Grand Island between 1907-1913, specializing in tuberculosis research and treatment. In September of 1913 she accepted the position of Superintendant at the Kearney Tuberculosis Hospital.
At the time of her appointment, the hospital had only been in operation for a little over a year, but with her training and experience, Dr. Deffenbaugh helped to make improvements that ensured the longevity of this hospital. Just before her tenure at this hospital began, news of her appointment was received well by the community. In a Grand Island Daily Independent article from September of 1913 , the author stated that "Dr. Deffenbaugh comes to Kearney highly recommended as a physician and a nurse…Dr. Deffenbaugh  has installed an entire corps of nurses and expects to make several other changes about the institution."[ii] At this time the hospital had the ability to treat 25 patients at once, and in the first year of operation treated 50 patients total. As the years passed however, the hospital was forced to build and expand in order to treat the growing numbers of patients seeking treatment for tuberculosis. By the 1940s the hospital grew to house 135 patients a year. [iii] Dr. Nelle Deffenbaugh was instrumental in the early days of the development of this facility.     
The fight against tuberculosis also took place in other areas of society during the early decades of the 20th century, and led to the creation of some of the first public health campaigns ever formed.  Led by both healthcare workers and volunteers at the local and state levels, tuberculosis associations came together to help combat the spread of this disease. These health campaigns became models for future campaigns. The achievements made by these associations included the distribution of educational materials to the general public concerning the risks associated with tuberculosis, financial assistance to tuberculosis hospitals and treatment facilities, and political support and advocacy for legislation that aided the fight against tuberculosis. [iv]
The financial assistance collected by these organizations for tuberculosis treatment and research came largely from the sale of Christmas Seals to members of the public. The Wood River Sun Beam published several notices at the local level urging community members to buy Christmas Seals during the holiday season. In one article from November 1937 titled "Sale of Christmas Seals Helps War on White Plague" the author hoped to call the attention of local residents to Sunday, November 28th which was to be "Tuberculosis Sunday."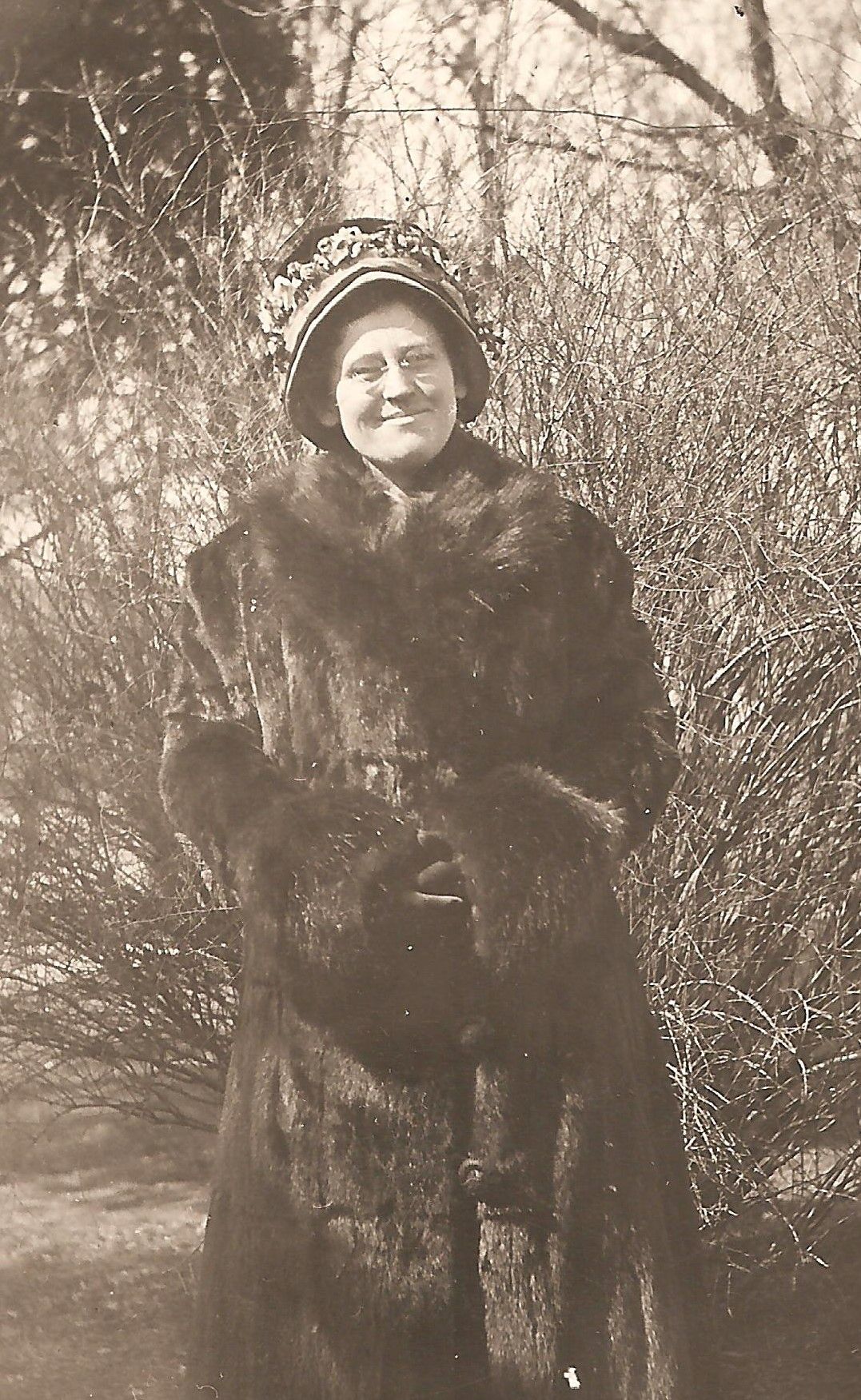 This Tuberculosis Sunday sale of Christmas Seals was highly promoted in order to raise money for "health work among the school children of rural communities." The article went on to say that "Christmas Seals have paid for this war; they must continue to do so…to the local and national group which have carried the prevention forward, is to be credited much of the progress we have made in the war on the great white plague." By 1937, as this article points out, the work of tuberculosis administrations was largely responsible for the lower ranking of tuberculosis as a cause of death in the United States; from first down to seventh. However, it also warned that "we cannot lose sight of the heavy toll which the disease continues to exact. We must remember the vast amounts of prevention work to be done and we must buy Christmas Seals to finance it. It means lives."[i]
With the advent of different antibiotics, streptomycin in 1944, and isoniazid in 1952, the white plague of tuberculosis began to recede as a threat in the eyes of the public. The lessons learned during this war on tuberculosis however, created lasting positive outcomes in the field of medical treatment  and the creation of national public health campaigns which are still looked to as models for similar initiatives in the present day. The threat of tuberculosis may have lessened in the minds of Americans, but the nation continues to benefit from doctors, nurses, and numerous other medical professionals who are dedicated to the fight of preventing the spread of epidemic diseases.
[1]. Centers for Disease Control and Prevention. National Center for HIV/AIDS, Viral Hepatitis, STD, and TB Prevention. Questions and Answers about Tuberculosis. p. 1-2. 2014.  https://www.cdc.gov/tb/publications/faqs/pdfs/qa.pdf
[1]Centers for Disease Control and Prevention. Tuberculosis. Division of Tuberculosis Elimination. December 12, 2016 https://www.cdc.gov/tb/worldtbday/history.htm
University of Virginia: Historical Collections at the Claude Moore Health Sciences Library. "Early Research and Treatment of Tuberculosis in the 19th Century." 2007.
[1] Byerly, Carol. Good Tuberculosis Men :The Army Medical Department's Struggle with Tuberculosis. p. 216-217. Department of the Army. June, 2014.
[1] Byerly, Carol. Good Tuberculosis Men :The Army Medical Department's Struggle with Tuberculosis. p. 216-217. Department of the Army. June, 2014.
[1] Byerly, Carol. Good Tuberculosis Men :The Army Medical Department's Struggle with Tuberculosis. p. 222. Department of the Army. June, 2014.
[1] Byerly, Carol. Good Tuberculosis Men :The Army Medical Department's Struggle with Tuberculosis. p. 216. Department of the Army. June, 2014.
[1] Grand Island Daily Independent. "New Superintendent: Dr. Nelle Deffenbaugh Takes Charge of Tuberculosis Hospital." September 3rd. 1913.
[1] McKee, Jim. "How State Tuberculosis Hospital Becomes UNK." Lincoln Journal Star. October 15th, 2016.
McLean, Angela. "Nebraska Women in Journalism and Medicine: With Emphasis on Two Hall County Women, 1860s-1920s." Stuhr Museum Research Center.  July, 1986.
[1] Anderson, Mark. "Was the First Public Health Campaign Successful? The Tuberculosis Movement and Its Effect on Mortality." p.2. Institute of Labor Economics. February, 2017.
[1] Wood River Sun Beam. "Sale of Christmas Seals Helps War on White Plague." November 25th, 1937. Hall County Nebraska Digital Community Archives.
---
The Invisible Enemy in the History of American Military Conflict. - Published 3/27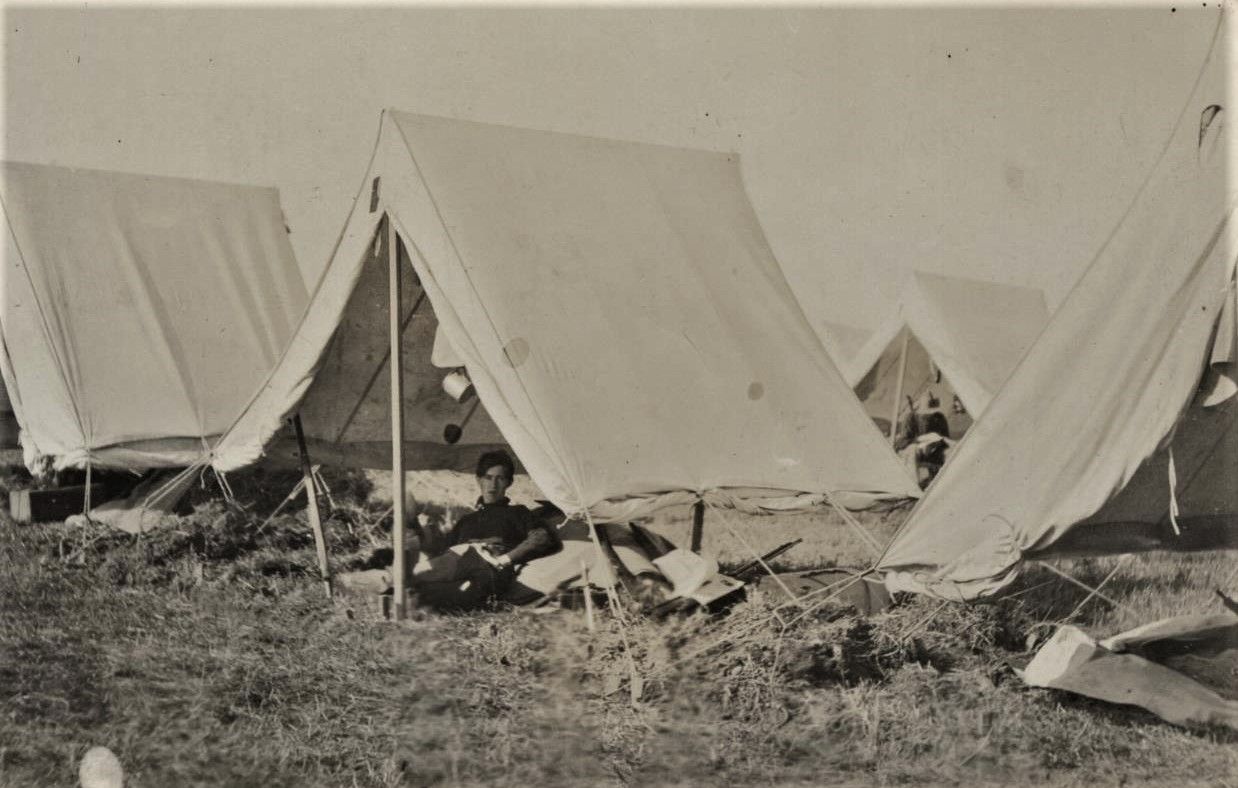 By Robb Nelson, Exhibits Curator at Stuhr Museum of the Prairie Pioneer
The spread of the Covid-19 virus in recent months has led to a belief around the world that the scale and devastation of this virus is unprecedented. However, it is important to realize that throughout history such outbreaks have not only been ordinary, but even expected. Proof for this statement can be found in most any nation's history of armed military conflict.
In the military history of the United States and Europe for instance, deaths from disease during war time have far surpassed deaths caused from injuries endured in battle. During the Napoleonic Wars in Europe from 1803-1815, the number of soldiers who died from disease compared to the number who died from battle wounds produced a ratio of 8-1. During the Mexican-American War from 1846-1848 the ratio was 7-1, and in the U.S. Civil War from 1861-1865, the ratio was 2-1.[i] In a Union Army comprised of 2.2 million soldiers in total, this last ratio, when extrapolated, equaled 275,000 deaths due to diseases. In the Confederate Army, out of a total standing army of 750,000 soldiers, this ratio equaled 164,000 deaths from disease.[ii]  
By the time of the Spanish American War in 1898, breakthroughs in medical science began to threaten the dominance that epidemic diseases played in military conflicts, but the implementation of this knowledge into preventative medical practices still lagged behind. In one notable breakthrough from 1873, English physician William Budd published a detailed guide to combating typhoid fever in his work titled Typhoid Fever: Its Nature, Mode of Spreading, and Prevention. Budd completed this text after studying typhoid fever for 35 years and documenting the results.[iii] This disease would become the primary cause of death during the Spanish-American War.  Unfortunately, works like these from Dr. Budd did not gain the traction required to impact the structure of the American military in time to prevent unnecessary deaths from occurring during this war. Thousands of soldiers would die from epidemics of typhoid fever and other diseases due to a lack of implementation of this medical knowledge. As a result, for every 1 soldier who died from battle injuries during the Spanish American War, 7 more died from the spread of diseases.[iv]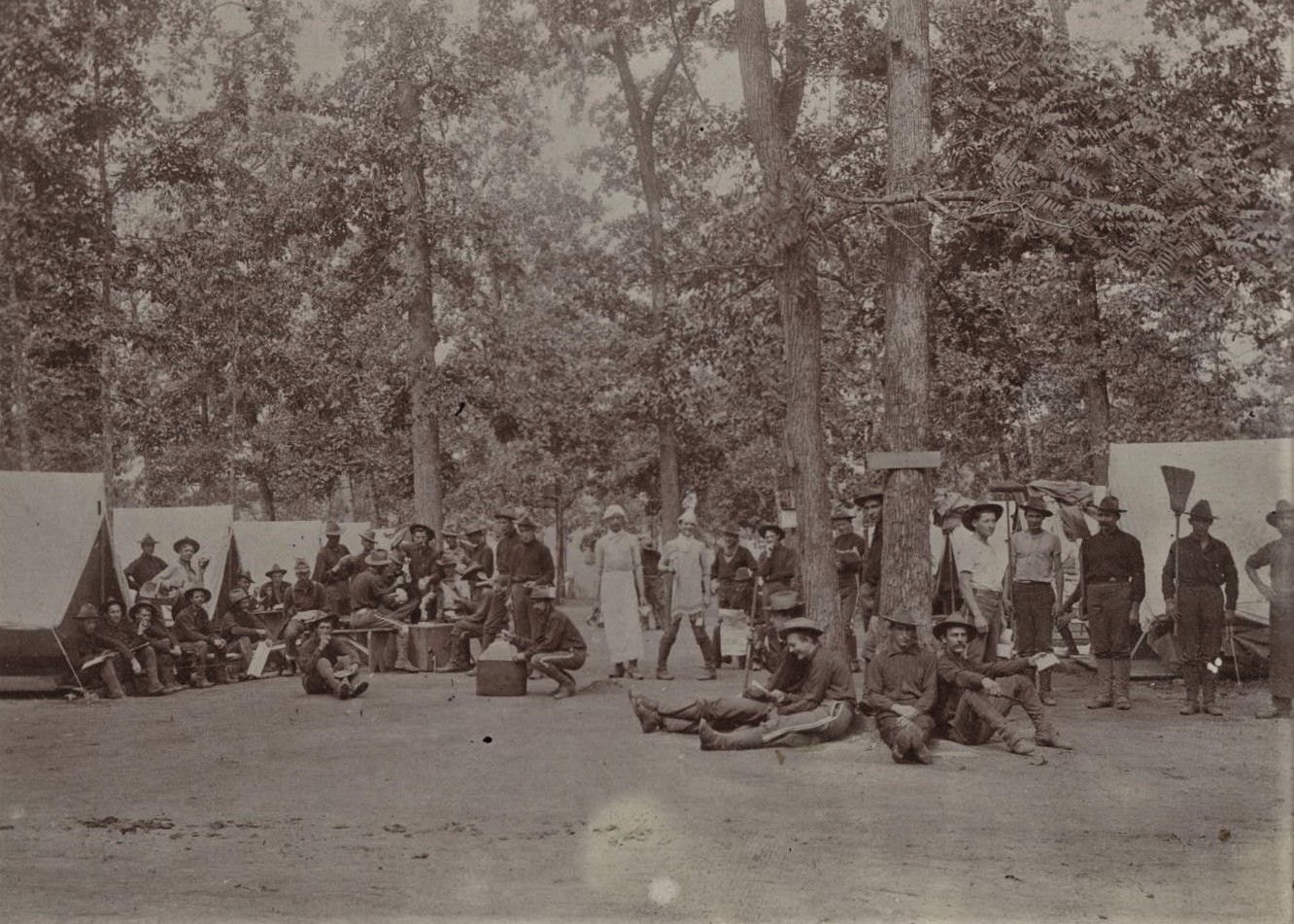 This tragedy can be observed at the local level with the example of the 2nd Nebraska Volunteer Infantry Regiment which served between May and August of 1898. The Second Nebraska was mustered into service in Lincoln, Nebraska on May 12th 1898 at the start of the conflict. This regiment traveled by train for 10 days to Camp George H. Thomas at Chickamauga Park, Georgia arriving on May 22nd. What greeted the 2nd Nebraska were 60,000 other soldiers from across the United States who had all been delivered to Camp Thomas making it the largest training camp in the U.S. military at that time. This camp and others like it came to be havens for the spread of epidemic diseases, especially typhoid fever and malaria. Typhoid fever, which is spread through contact with infected fecal matter, was able to contaminate large training encampments located in the southern states like Camp Thomas in Georgia. It spread due to such factors as the toughness of the clay soil in some of the camps which made it difficult to dig deep enough to bury human waste, or to cover it properly. Another problem was the sheer size of the camps in terms of population, which led to extraordinary amounts of human waste being improperly disposed of.[i] The waste generated at camp George Thomas between 60,000 men in a single day amounted to 21,000 gallons of urine and 9.4 tons of feces.[ii] All of these conditions led to the contamination of fresh water sources which all but ensured typhoid outbreaks of epidemic proportions in these national encampments.[iii]
From the arrival of the 2nd Nebraska Volunteer Infantry on May 22nd  until August 29th when the 2nd Nebraska began their journey back to Omaha, 167 men out of a total 1,303 soldiers contracted typhoid fever, and of that number 22 died as a result.[iv] This statistic may not seem particularly noteworthy until it is mentioned that no one from this regiment ever saw combat of any kind,  nor did they leave encampment. The numbers of men lost in the 2nd Nebraska were comparable to regiments from all over the nation. Of the 2,910 total American deaths that occurred during the entirely of the Spanish-American War, a full 2,565 of them were killed due to diseases, with 1,590 of these deaths the result of contracting typhoid fever.[v]
At the start of the conflict in 1898 according to historian Vincent Cirillo "the causative agent of typhoid fever had been identified…the test was available, the mode of infection via infected feces was established, and effective preventative measures (disinfection and scrupulous cleanliness) were known."[vi] Yet so many soldiers still lost their lives due to a lack of implementation of this knowledge. News of such loss of life became a national outrage.
To address this situation a Typhoid Commission was created by the federal government. The commission reviewed the illnesses recorded on a regiment by regiment basis. As a result of their findings, several sweeping reforms took place within the U.S. military. Students at the premiere military institutes of the nation such as West Point were given greater access to the most up to date medical knowledge available through changes to the academic curriculum. The U.S. Medical Department expanded to include an Army Nurses Corps, Medical Corps, Hospital Corps, and Dental Corps. These investments ensured that enough help, especially properly trained help, would be available for those serving in future military engagements. The successes of the typhoid board also led to the creation of the Yellow Fever and Tropical Diseases Boards which ultimately led to better treatment and prevention of these diseases as well. In short, the entire U.S. Medical Department organization was restructured as a result of the disastrous medical outcomes of the Spanish-American War.[vii]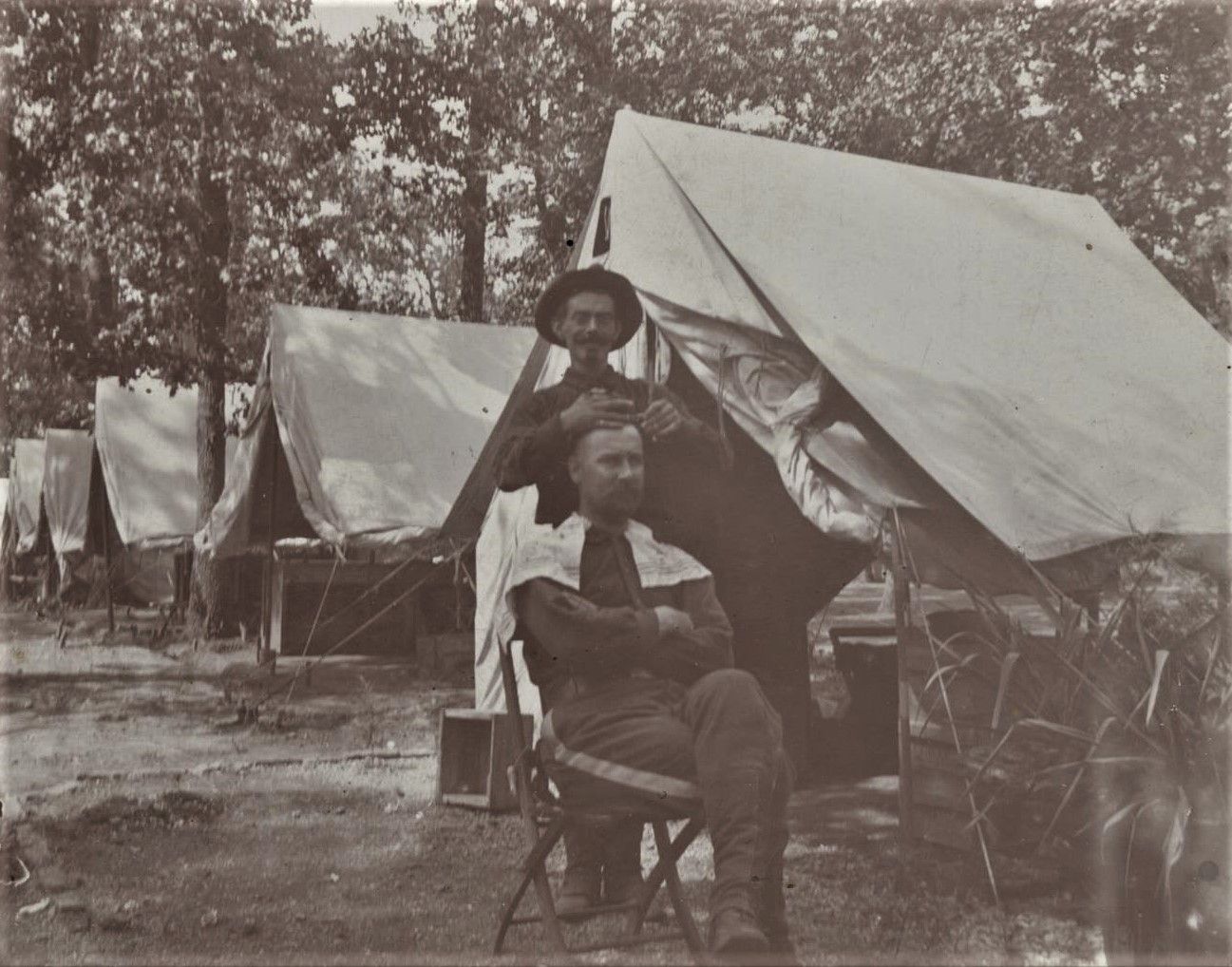 Over time, scientific advancements in numerous areas of medicine combined with preventative health practices and procedures led to a substantial reduction of these casualties from disease during war time. With the addition of vaccinations to this effort in the 20th century, by the time of World War Two deaths from disease began to rapidly decrease. While global epidemics are certainly unprecedented in the Western world of the 21st century, only recently has this become a reality for a large percentage of the global community. Initiatives like those undertaken by the U.S. military following the outcome of the Spanish American War greatly contributed to higher levels of awareness about proper sanitary procedures and norms to follow to avoid such outcomes. Due to strict adherence to such practices over multiple decades, the threat of these epidemics, especially during war, slowly receded from the public memory and become seen as unprecedented. By maintaining that strict adherence to medical procedure and access to the latest medical knowledge, the global community can continue to avoid or lessen the spread of such epidemics when they arise in the future.
[1] Sartin, Jeffrey. "Infectious Diseases During the Civil War: The Triumph of the 'Third Army." p. 580-581. Journal of Clinical Infectious Diseases. Vol. 16. No. 4. Oxford University Press. April, 1993.
[1] Sartin, Jeffrey. "Infectious Diseases During the Civil War: The Triumph of the 'Third Army." p. 580-581. Journal of Clinical Infectious Diseases. Vol. 16. No. 4. Oxford University Press. April, 1993.
[1] Cirillo, Vincent. Bullets and Bacilli: The Spanish American War and Military Medicine. p. 62. 
[1] Cirillo, Vincent. "The Patriotic Odor: Sanitation and Typhoid Fever in the National Encampments during the Spanish American War." p. 17. Journal of Army History. Vol. No. 49. Spring 2000.
[1] Johnson, J.R. "The Second Nebraska's 'Battle' of Chickamauga," Nebraska History 32 (1951): 81-83.
[1] Arnold, James. Health under Fire: Medical Care during America's Wars. p. 128. Greenwood Publishers. Santa Barbara. 2015.
[1] Johnson, J.R. "The Second Nebraska's 'Battle' of Chickamauga," Nebraska History 32 (1951) p. 82-83.
[1] Johnson, J.R. "The Second Nebraska's 'Battle' of Chickamauga," Nebraska History 32 (1951): 78, 91.
Reed, Walter. The United States General-Surgeon's Office. Report on the origin and Spread of Typhoid Fever in U.S. Military Campus during the Spanish American War of 1898. p. 177-178. Washington D.C. Government Printing Office. 1904.
[1] Cirillo, Vincent. "The Patriotic Odor: Sanitation and Typhoid Fever in the National Encampments during the Spanish American War." p. 17-18. Journal of Army History. Vol. No. 49. Spring 2000.
[1] Cirillo, Vincent. Bullets and Bacilli: The Spanish American War and Military Medicine. p.67-68.
[1] Seaman, Rebecca. Epidemics and War: The Impact of Disease on Major Conflicts in History. p. 106. ABC-CLIO Publishers. Santa Barbara, California. 2018
---
Past Epidemics of Fear - Published 3/20
by Stuhr Museum of the Prairie Pioneer Exhibits Curator Robb Nelson
Fears and worries about the coming of an unknown, uncontrollable illness have been a fact of life throughout human history, from the local to the global level. The causes for these fears have been many, but whenever the threat of a new illness has taken place the people who encountered it either adopted positive strategies to deal with the crisis at hand, or made the problem worse by spreading fear, rumor, and blame for the illness.
During the mid-19th century the United States was faced with a new illness that was unknown to the continent and reached the level of a pandemic in at least 3 different years, 1832, 1849, and 1866. This illness was cholera. The unfamiliarity of this new illness led to many false ideas and negative outcomes. Some people thought cholera spread through miasmas or unhealthy smells or vapors, while others thought it was transmitted through atmospheric changes above them. Few during this time would have guessed that the actual culprit was unsanitary water systems throughout the nation which allowed sewage waste to come into contact with drinking water. While 80% of people exposed to cholera were asymptomatic, cities and towns throughout the U.S saw death totals in thousands due to this illness.[i] Between 1849-1851 for instance, outbreaks of cholera led to the deaths of 4,557 people in St. Louis and 5,969 Cincinnati alone.[ii]
The large amount of death from cholera led to widespread fear and finger pointing. Irish immigrants, African Americans, and those from the lower economic class in general were all blamed for these outbreaks as were the poor living conditions unfairly associated with these groups of people. Religious condemnation flourished during these outbreaks as well. Many congregations were told that their sins against God were to blame for these cholera epidemics, and that only repentance could restore the sense of normalcy to the world. In one notable sermon during the 1832 cholera outbreak at the Brattle Square Church in Boston, John Palfrey delivered a sermon indicating his belief that God was "using Cholera to straighten the world out." [iii] Misinformation, panic, and finger pointing all made the situation worse when cholera reemerged at different times during the 19th century. Not until the outbreak of 1866 in the United States were the origins of cholera traced to the water supply due to the discovery of London physician John Snow. This breakthrough along with the development of a vaccine in 1885, and social movements that championed large scale sanitation reform throughout the nation all led to the retreat of cholera from the public mind by the 1920s.[iv]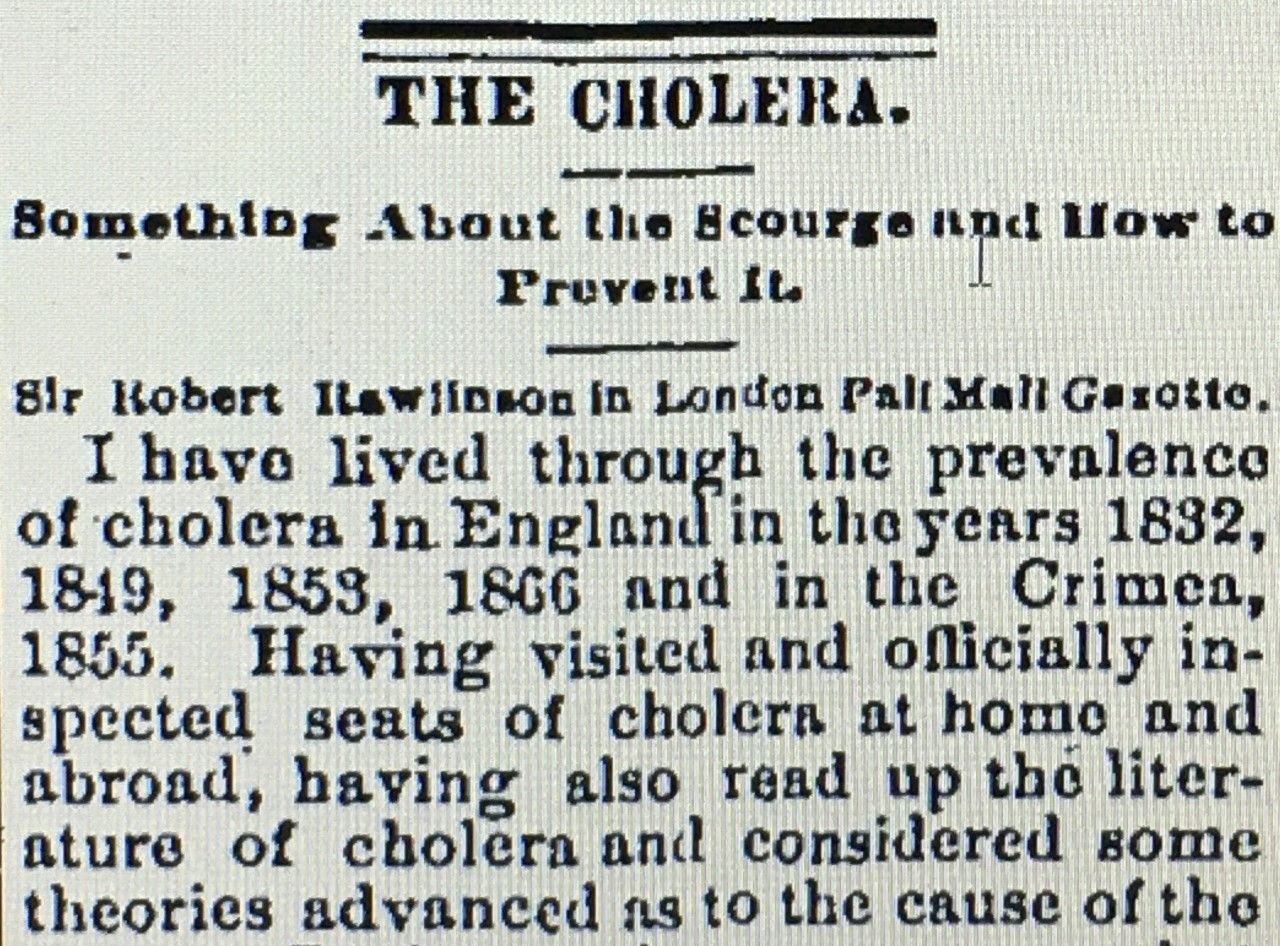 Even before the discovery of the vaccination those who had experience encountering cholera began to recommend steps to avoid it at the local level. On August, 9th 1884 the Grand Island Daily Independent published an article by a Sir Robert Rawlinson of London who claimed to have lived through the 1832, 1849, and 1866 outbreaks. He believed that to stop the spread of cholera it was important to "remove foul privies and cesspools" and if done regularly "the cholera, if introduced, will not spread." Likewise it was equally important to Rawlinson for engineers "to bring in an abundant and pure supply of water…within the walls of every occupied house" and that drains be present "to remove soil and waste water." Rawlinson believed that if people could "do all this to the greatest perfection" the spread of cholera might be contained.[i] This information being available to the citizens of Grand Island was important for stopping the spread of cholera in this newly urbanizing area of the country.
In the first half of the 20th century another unknown disease spread fear and worry to families throughout America. The paralysis causing disease known as Polio grew to epidemic proportions during this time, and while polio was asymptomatic in as many as 95% of cases, this still led to the permanent paralysis and or deaths of tens of thousands of Americans a year. Not until the creation of a vaccination in 1955 was polio largely eradicated from the worries of Americans.[ii]
Much like the Corona virus outbreak of 2019-2020, the fear over the spread of polio led to several nationwide reactions. When the New York Times reported in the fall of 1921 that then up and coming New York politician Franklin Roosevelt contracted polio while on a summer vacation in New Brunswick Canada, fear swept the nation. If someone as prominent as FDR could contract the disease, then it was believed that anyone could get it. Since FDR had been vacationing at a lake when he contracted the disease, this led to the unfounded belief that contact with contaminated water might cause polio to spread. Beaches and swimming pools throughout America shut down as a result.[iii] Others thought that the illness might be caused by soft drinks, or too much rain or heat. The movie theatres also closed, and some people refused to shake hands or handle money due to fear of spreading or contracting polio.[iv]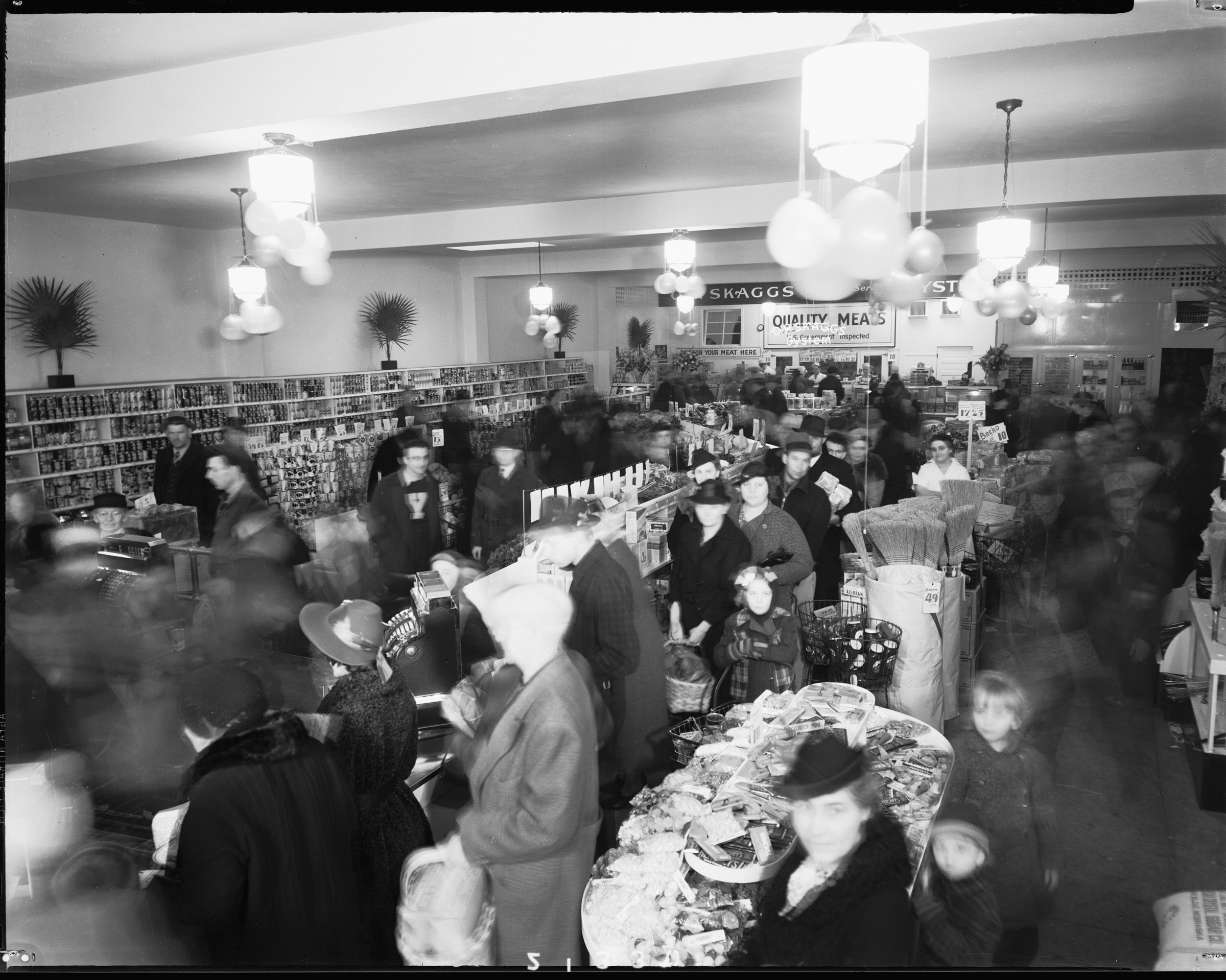 Polio came and went at different moments during the first half of the 20th century, but the disease thrived during the warm summer months and ebbed during cooler parts of the year. While polio touched every part of the United States, areas like Hall County, Nebraska did their best to stop fear from overwhelming people by getting the best information available into the hands of their community members. In August, 1951 the Wood River Sun Beam published an article with several Do's and Don'ts to help their readers take precautions to avoid polio during the dangerous time of year they were in. "If polio comes…Do watch for signs of sickness, such as headache, fever, sore throat, upset stomach, sore muscles, stiff neck or back, extreme tiredness…or trouble breathing or swallowing."  Among the list of Don'ts, the Wood River Sun Beam advised their readers "Don't get over tired by hard-play, exercise, work, or travel. This means men, women, and children. Don't get chilled. Don't bathe or swim long in cold water, or sit around in wet clothes." The article also asked that readers stay calm and "Do remember – at least half of all polio patients get well without any crippling."[i]
        The discovery of vaccinations largely eradicated the threat of contracting cholera and polio for Americans and people around the world, they also eliminated the fears and anxieties that accompanied these epidemics. During these hardships, local Hall County residents endured as best they could alongside countless other communities around the world in dealing with the havoc these illnesses created. Now in the 21st century, new illnesses will force these same communities to endure and outlast new hardships in much the same way as in previous generations.

[1] Cholera: Symptoms and Causative Agent. The History of Vaccines: An Educational Resource by the College of Physicians of Philadelphia. 2018.
[1] Daly M.D., Walter J. "The Black Cholera Comes to the Central Valley of America in the 19th Century, 1832, 1849, and Later." Transactions of the American Clinical and Climatological Association. 143-153. 2008.
[1] Daly M.D., Walter J. "The Black Cholera Comes to the Central Valley of America in the 19th Century. 143-153.  2008.
[1] Rosenberg, Charles. The Cholera Years: The United States in 1832, 1849, and 1866. P. 5-6. University of Chicago Press. Chicago and London. 1987.
[1] Rawlinson, Robert. "The Cholera: Something About the Scourge and How to Prevent It." Grand Island Daily Independent. August 9th, 1884. Hall County Nebraska Digital Community Archives.
[1] [1] History of Polio (Poliomyelitis.) The History of Vaccines: An Educational Resource by the College of Physicians of Philadelphia. 2018.
[1] Linn, Alexandra. Polio and Swimming Pools: Historical Connections. The History of Vaccines: An Educational Resource by the College of Physicians of Philadelphia. 2012.
[1] Weeks, Linton. "Defeating Polio: The Disease that Paralyzed America." NPR History Department. April, 2015.
[1] Rogers M.D., E.A. "Is Polio Getting Worse: State of Nebraska Department of Health" Wood River Sun Beam. August 23rd, 1951. Hall County Nebraska Digital Community Archives.
---
The Quarantines of Epidemics Past - Published 3/13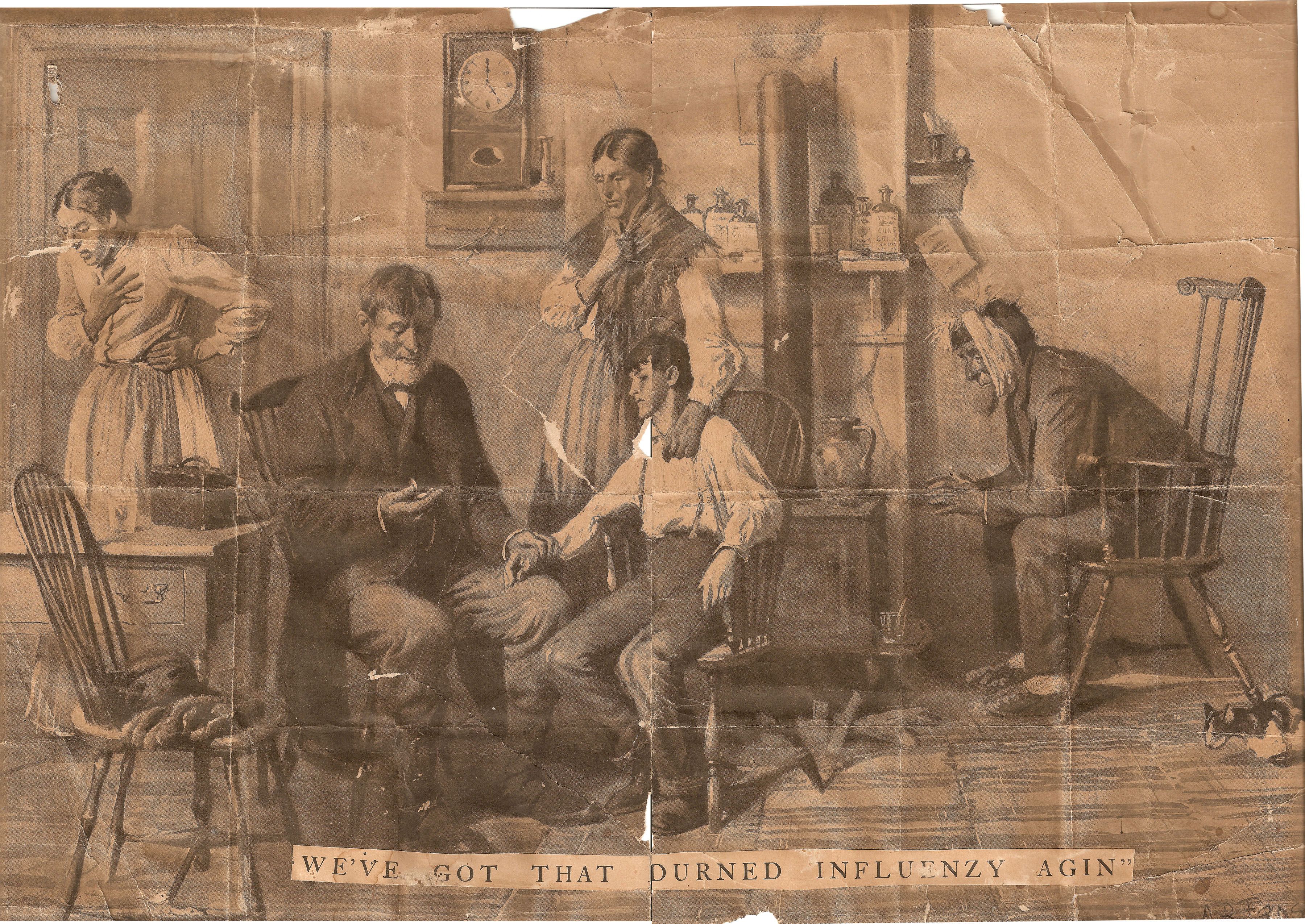 By Robb Nelson
Stuhr Museum's Curator of Exhibits
America is no stranger to contagion or epidemics. At times they have even been viewed as a fact of life, as real as the changing of the seasons. It is estimated that between 1700-1800 for instance, 600,000 people died worldwide every year from smallpox alone. Throughout this time, however, actions were taken by the public to stop the spread of these outbreaks however they could. Often times this led to a quarantine.[i]
As early as 1731, the first legislative measures in the U.S. colonies were passed to stop the spread of smallpox, a disease that at several moments rose to the level of an epidemic in the history of America. In this year Massachusetts passed "An Act to Prevent Persons from Concealing Smallpox." This Act required that any location where smallpox had been reported that a pole with a red flag be hung outside of that home or establishment until such place was later deemed to be aired and cleansed. The penalty for failing to do this amounted to a fine of 50 pounds for the owner of the property. Guards were also hired to stand outside of these locations to prevent people from entering or leaving in order to stop the spread of the virus.[ii]
Quarantines like these have been done since as early as the 14th century in Europe and some lasted for significant amounts of time. The word quarantine, in fact, comes from the Italian words "quaranta giorni" which translates to 40 days. This referred to the amount of time that foreign ships had to remain anchored off the coast of port cities like Venice, Italy during times of outbreak before they could land ashore.[iii]
Quarantines have also had a prominent local history in the Hall County community. In December of 1900 Grand Island suffered a smallpox outbreak that effected several members of the community. At this time several parts of Nebraska were affected by this virus including St. Paul, Nebraska City, and Decatur where as many as 300 people contracted smallpox. This prompted the city leaders of Grand Island into action. According to local physician Dr. Henry Boyden of Grand Island "the thing to do…was to use every precaution and every measure to stop the disease – close the library, the public schools if necessary and place guards at every house as long as it was absolutely necessary." At the direction of Dr. Boyden and Dr. Towne of the State Board of Health, a plan for quarantine was enacted that much resembled the measures taken by the Massachusetts colony in 1731. Placards were printed and hung notifying the public of the areas where smallpox was present, and guards were posted at locations where smallpox had been identified. Additionally, doctors were also compelled to report every new case of smallpox that emerged, and a "pest house" was created to quarantine all individuals who had contracted the virus. [iv]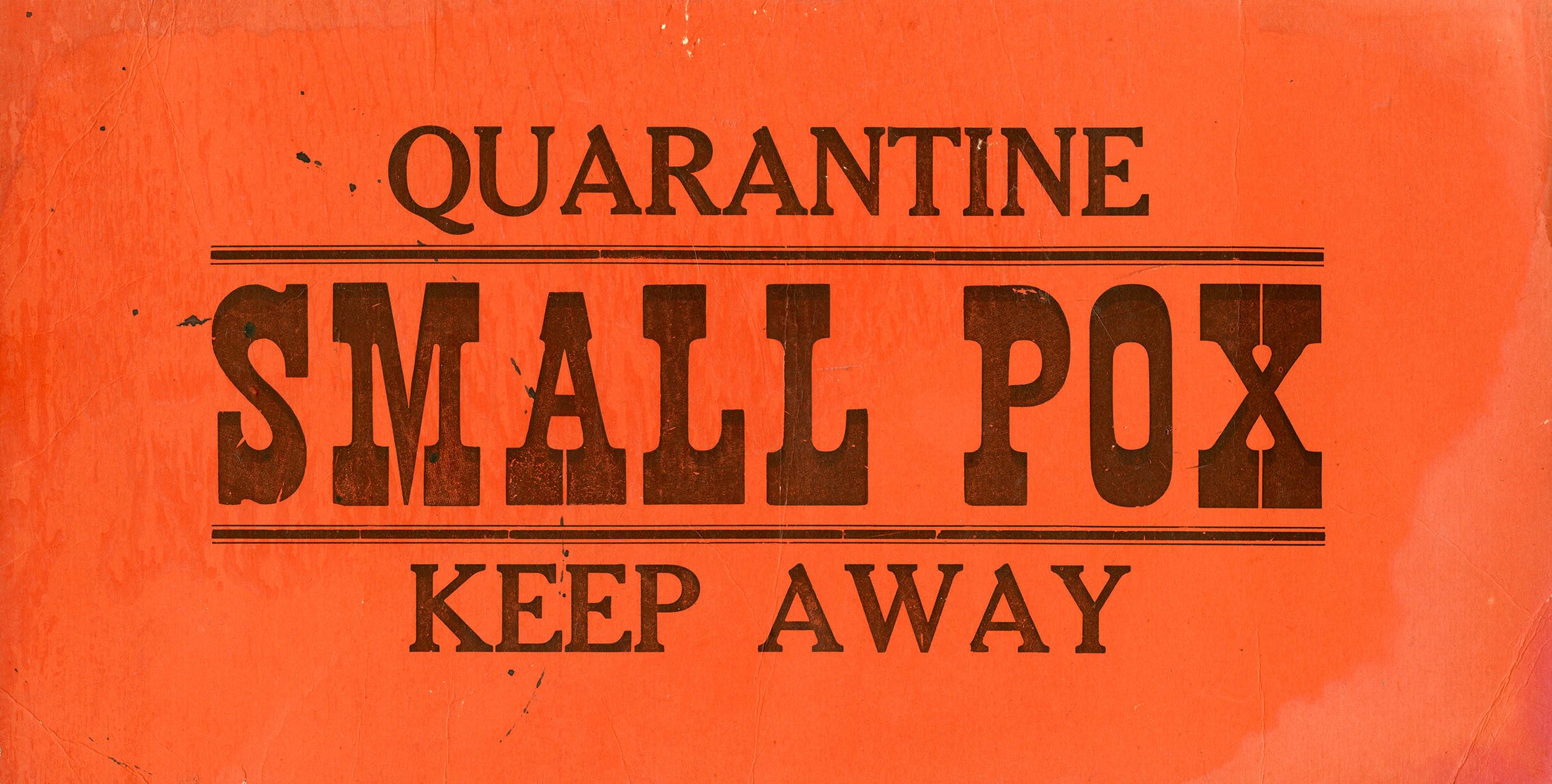 Through such legislative and civic actions, communities in Nebraska, as well as communities in every state in the Union have combatted the epidemics of the past. While smallpox did not see widespread eradication until vaccinations were available at all levels of society in the 20th century, the small actions done by community members in the examples above made these outbreaks less severe. As long as members of the public remain calm, follow basic sanitary norms, listen to medical experts and public officials, and receive vaccinations whenever possible, the Hall County community, as well as the American public at large will continue to make it through these epidemics whenever they arise.
CITATIONS:
[i] Drs. T.S. Powell, R.C. Ward, and W.T. Goldsmith. Southern Medical Record: A Monthly Journal of Practical Medicine. Volume 7. p. 100. 1882.
[ii] Tandy, Elizabeth. "Local Quarantine and Inoculation for Smallpox in the American Colonies: 1620-1775." p. 204-207. American Journal of Public Health. 1923.
[iii] Center for Disease Control and Prevention. "History of Quarantine." National Center for Emerging and Zoonotic Infectious Diseases (NCEZID), Division of Global Migration and Quarantine (DGMQ)https://www.cdc.gov/quarantine/historyquarantine.html
[iv] "Will Quarantine: Decisive Measures Adopted to Stop Contagion." Grand Island Daily Independent. December 6th, 1900. Hall County Nebraska Digital Community Archives. http://hallcountyne.advantage-preservation.com