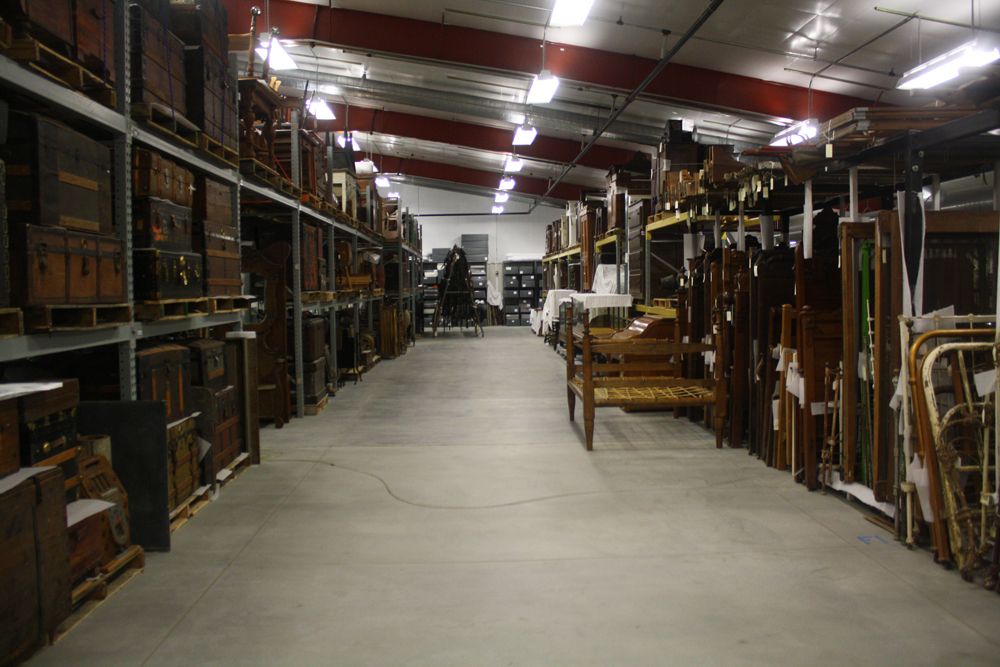 The Collections Department is located on the grounds of the Stuhr Museum in the Ahrens Collection Building.
Description of Holdings
The Collections Department's collection contains 3-dimensional objects relating to the history of Hall County and Central Nebraska from the 1840s until 1930. The following is a partial list of the objects that the Collections Department holds and that are available for research:
Textiles
Furniture
Agricultural implements and tools
Historical Buildings
Household Accessories
Guns and Weapons
Native American objects
Animal Husbandry
Art
Food Service & Food Processing
There is no fee for visitors to view and research items in the Museum's collection. Stuhr Museum staff may be hired to conduct research and photography of the Stuhr Museum's 3-D collections for a fee. See the Fee Schedule for the Collections Department.
Rules and Regulations for the Collections Department
The rules for study and viewing of objects at Stuhr Museum's Collections Department have been established to provide the fullest possible access to the collections while maintaining strict preservation standards.  Failure to comply with these rules will result in the denial of access to the collections.  Theft or mutilation of the holdings is a crime that will be prosecuted.
Smoking, eating and drinking are prohibited in the Ahrens Collection Building.
The use of pens to take notes is NOT permitted in order to prevent accidental marking of objects.  Only pencil, laptops, or voice recording devices may be used for this purpose.
Collection storage is accessible to Collection Department staff only.  Staff will retrieve all items requested.
Patrons should wash their hands before handling any objects.  If necessary, patrons will be furnished with gloves to handle objects.
To avoid scratching, marking or bumping an object avoid wearing dangling necklaces, sharp rings, protruding belt buckles, remove pens and pencils from shirt pockets, and tuck neckties into shirts.
All objects must be treated with care, avoiding unnecessary handling. When moving artifacts, support their weight by placing your hands under them or on the strongest parts of the main body. Use both hands to move artifacts. Do not lift objects by parts such as handles, straps, or lids. Do not lift furniture by arms or backs, paintings by top frame rails or hanging hardware, or ceramics by handles. Carry textiles fully supported on both arms, on a rigid support, or rolled on a tube.
Photography or videotaping in the Ahrens Collection Building is prohibited without the permission and accompaniment of the Curator.
Discuss reproductions
Rights and Reproduction of the Stuhr Museum of the Prairie Pioneer Collections Department
Photographic Reproduction of 3-D Objects and/or Artwork
One-time reproductive images of three-dimensional items and artwork held by the Collections Department of Stuhr Museum may be permitted for personal use or one-time only production.* A Permission and Use Form must be completed and signed by all those who request photographs of objects that are in storage. The credit line "From the Collection of Stuhr Museum of the Prairie Pioneer," must appear with the reproduction.  Additionally, credit must be given to the artist when original artwork is reproduced.
All applications to make reproductive images must be approved by the Curator of Collections for items in storage, or by the Curator of Exhibits for items on exhibit.  A curator must be present during photography.  Lighting and handling requirements set forth by the curator must be met.
Sketching, Painting and/or Sculpture Reproductions of 3-D Objects
Sketching, painting, sculpture or other non-photographic reproductions of three-dimensional items held by the Collections Department of Stuhr Museum for the purpose of resale may only be made by Stuhr Museum and manufacturers who have entered into a licensing agreement with the Museum.
All reproductions must be marked as such so that the reproductions cannot be mistaken for original artifacts at some later date.  Records of object reproduction are maintained by the Curator of Collections.
Sketching, painting or sculpting reproductions of three-dimensional collection objects by private individuals for the purpose of education, such as for classes, is permitted, but permission must be obtained by the Curator of Collections.
Fee Schedule
*There is no fee for photographs taken by a researcher during the visit.
Photographs

Hall County Residents ………………………$15.00
Non-Hall County Resident…………………..$25.00

Research

Hall County Residents ………………………$15.00
Non-Hall County Resident…………………..$25.00

8" x 10" print …………………………………………$10.00 per print
CD…………………………………………………….$2.00 per CD
Shipping fee…………………………………………..$3.00
Any additional costs, incurred by Stuhr Museum in processing or preparing objects for reproduction, may be passed on to the person requesting the reproduction.
Use Fees
A use fee will be charged for commercial use of reproductions of the Collections Department's holdings.  Use fees are in addition to reproduction costs. No use fee is charged for Hall County citizens, businesses, governmental agencies, or the news media.
Non-profit        Commercial
Books, textbooks, catalogues, periodicals, brochures,               $25.00             $50.00
display at a public institution
Book covers, dust jackets, album or CD covers, television,        $75.00           $100.00
video, movie productions, filmstrips, display at a private institution/residence (commercial fee applies)
Reuse in subsequent edition or release                                       33% of original fee
Copyright
Stuhr Museum can grant reproduction permission only to the extent of its ownership of the rights relating to the request.  Certain collection items may be protected by copyright, trademark or related interests not owned by the Museum.  The responsibility for ascertaining whether any such rights exist and for obtaining all other necessary permission remains with the applicant.  The applicant agrees to indemnify Stuhr Museum and hold it harmless against all such claims, including copyright infringement claims, royalty or fee demands and/or actions, including the costs thereof, arising as a result of the applicant's reproduction of the collection items.