Stuhr Named Outstanding Tourism Attraction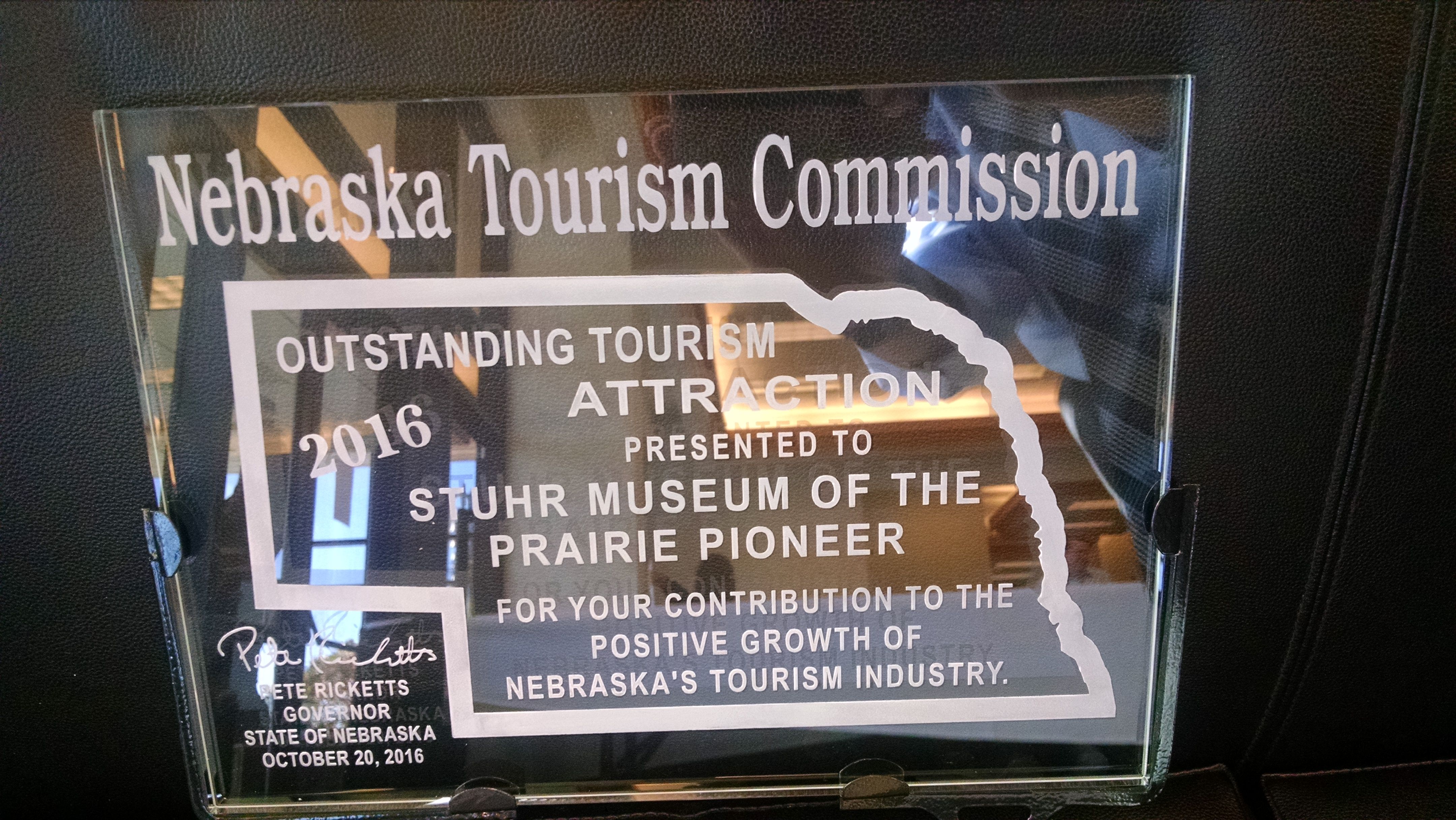 The Nebraska Tourism Commission named Stuhr Museum "Outstanding Tourism Attraction" on Thursday afternoon during the Nebraska Travel Conference in Gering.
This award is given to the "Nebraska tourism attractions that have worked toward the continued success and growth of their communities and the state's tourism industries." From the Commission's press release:
"For almost half a century, the Stuhr Museum of the Prairie Pioneer has served as the cultural hub of the Grand Island community, as well as central Nebraska. In 2015, the community celebrated the re-opening of the main building after an 18-month, $7.4 million renovation. Dubbed the Gem of the Prairie, The Stuhr Building is the visual anchor of the museum's 207 acre living history experience and is an attraction in itself. The Museum was also recently recognized by the Grand Island Chamber of Commerce with the Outlier Award, honoring its leadership and commitment to the preservation of history. Stuhr Museum generates an annual economic impact of more than $2 million and serves an average of 67,000 people each year. Stuhr is already looking at the next phase of their program and infrastructure development, proving the establishment will continue growing and be a community icon for years to come."
The award comes a weekend after 3,500 people attended the museum's "All Hallows Eve" event and as Stuhr comes up on the holiday season featuring several well-known and attended special events.
"I am very pleased to announce that the Stuhr Museum has received the 2016 outstanding tourism attraction award from the Nebraska division of travel and tourism at the Nebraska Travel Conference today in Gering Nebraska," Stuhr Museum Executive Director Joe Black said in an email to Board and Staff. "Thank you to everyone who works so hard for the museum. Your passion is what makes our Musuem  such a great place to visit and such an important asset for our community."
Stuhr Museum is open 9 am - 5 pm Mondays - Saturday and Noon - 5 pm on Sundays.