50 Years of Stuhr Museum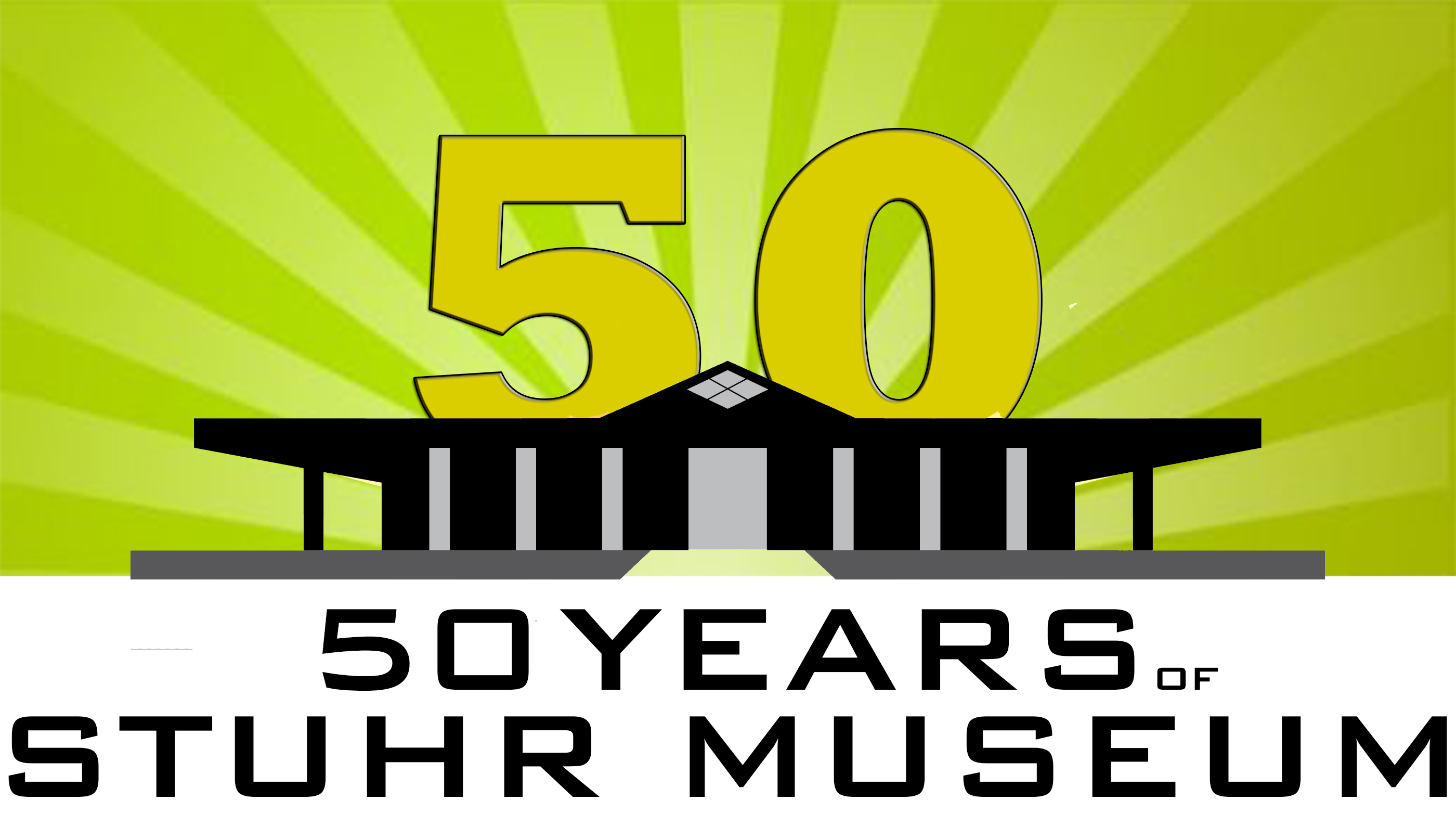 In 2017, Stuhr Museum celebrates 50 years of operation with special exhibits, events and activities that we will talk a lot about in the coming months.
The mission of Stuhr Museum is to "preserve and portray the inspiring era of the pioneer townbuilder who settled the first communities in Nebraska." It's a big mission and, over the years, Stuhr has fulfilled this mission in a wide variety of ways. Visitors can walk into the Fonner Rotunda and see the spurs cowboys wore while riding the plains or you can take a walk through Railroad Town and imagine yourself in the 1890's. You can see a piece of art on the walls of the Stuhr Building and be transported or you can attend the 4th of July at Stuhr, watch the parade, and feel inspired.
The founders of the museum had a big, bold vision for their community and its history and it is our job, each and every day, to carry out that vision. As a way to reflect on our history and the past 50 years of operation, here's a timeline of Stuhr Museum's history up through the year 2000.
We're looking forward to a big, bold 2017 and hope you are able to come celebrate with us.
STUHR MUSEUM TIMELINE
NOTE: This is by no means a comprehensive list. If you have something we missed, please email marketing@stuhrmuseum.org and we'll get it updated. 
June 1959 - Leo Stuhr challenged city council to establish museums—offered financial Assistance and Stuhr farm as location.

June 1960 - Leo Stuhr petitioned Hall County board of supervisors to put question of establishing county museum on fall ballot.

November 8, 1960 - Hall County voters approved the ballot by nearly 2:1 margin

March 1961 - Hall County board of supervisors appointed the first board of trustees for the museum

May 1, 1961 - Leo B. Stuhr elected first president of museum board

May 18, 1961 - Leo B. Stuhr passed away; left bulk of estate to museum; S. N. "Bud" Wolbach elected president of museum board at its next meeting
October 1961 - First director hired: Dr. James B. Schaeffer
December 1, 1961 - Director Schaeffer assumed position
1962 - Correspondence between museum and Edward Durell Stone began
May 1962 - Museum opened in Pathfinder Building in downtown Grand Island
Winter 1963 - Edward Durell Stone selected as architect for museum
April 22, 1963 - Ground broken for new museum on Leo Stuhr farm
April 6, 1964 - Move to new site announced in Daily Independent
June 24, 1964 - Purchase price of $70,800 approved for new site of 262 acres
by Dec. 18, 1964 - Construction of main building underway [may have been underway as early as October]
May 21, 1966 - Cornerstone laid for main building
August 2, 1966 - Deed to museum site acquired from Grand Island Industrial Corporation for $1
November 18, 1966 - Bid from Union Pacific accepted for sale of 112 acres [the old museum site] for $102,900
December 16, 1966 - Board minutes report over 14,000 items turned over to museum by the Hall County Historical Society
June 1967 - Flooding delayed opening day set for June 23-26
July 30, 1967 - Dedication ceremony
July 1968 - Antique Auto and Farm Machinery Building opened featuring John Thieszen collection
June 21, 1969 - Deed for 60-acre county park south of museum presented to the county board of supervisors
summer 1970 - Jack Learned named director
December 7, 1971 - County vote in support of museum funding
August 13, 1972 - Gateway from Grand Island Baptist College dedicated
1973 - Collections storage building constructed [bids examined November 1972; floor poured March 1973; building accepted July]
September 29, 1974 - Dedication of Mormon historical marker
1975 - Maintenance building constructed
March 1976 - Construction of gatehouse begun
late May 1976 - Railroad began operation
March 1977 - Taylor Ranch store donated
by August 25, 1977 - Museum accredited by American Association of Museums
September 25, 1977 - Gus Fonner Memorial Rotunda dedicated
April 6, 1978 - Henry Fonda visited museum
by May 16, 1978 - Addition to farm machinery building nearly completed
June 23-24, 1979 - Civil War encampment
June 21-22, 1980 - Civil War Living History weekend
1980 - Leschinsky Studio collection acquired
July 23, 1980 - Museum Foundation incorporated
June 14, 1981 - Dedication of Grand Island College memorial pillar rose garden
1982 - H.A.T.S. program started for classes at museum
December 14, 1982 - Grant of $250,000 announced from Edgar Reynolds Foundation
June 19, 1983 - Dedication of doctor's office
March 1984 - Taylor ranch store moved to grounds
[by April 1984] - Arboretum under development
November 1984 - "Schimmer's Sand Krog"--first book published by museum
1985 - "Townbuilders" book published
March 11, 1985 - Ground broken for Reynolds Center
June 8, 1986 - Dedication of Reynolds Center [Research Dept. offices were moved into the new building in February 1986]
June 1986 - Dedication of telephone office
Aug.-Sep. 1987 - Filming of "Home at Last" [aired on PBS January 10, 1988]
Summer 1988 - Taylor Ranch store/exhibit opened
Summer 1988 - First summer school classes taught
1988 - First annual "Wings Over the Platte" art exhibit
December 1988 - "Old-Fashioned Christmas" year's biggest event
July 17, 1989 - New director: Sandra Yoder
October 29, 1989 - First annual "Antique Engine and Tractor Days"
June 25, 1990 - Severe windstorm damaged trees and caused minor building damage
Summer 1990 - ETV special on "The Platte River Road" filmed
August 1990 - Hallmark Hall of Fame TV special "Sarah, Plain and Tall" filmed
October 14, 1991 - Museum property annexed by City of Grand Island
September 7, 1990 - Museum awarded the "Sower Award" by Nebraska Humanities Council
August 15, 1992 - Henry Fonda Day celebrated [Peter Fonda special guest]
March 1993 - Heavy rains brought flooding
June 23, 1993 - Severe windstorm damaged trees and structures
August 1993 - Fonda family visit
June 1994 - Filming of "My Antonia"
May 14, 1995 - Henry Fonda Rose Garden dedicated
May 5, 1996 - Dentist exhibit dedicated
June 22-23, 1996 - Civil War encampment
October 12-13, 1996 - First annual "Railroad Town Agricultural Fair"
May 3-4, 1997 - Mormon Trail encampment
1997 - Reconstructed Pawnee Earth Lodge opened as exhibit
August 2, 1997 - 30th anniversary celebration; main building re-dedicated as Stuhr Building
September 24, 1997 - 20th anniversary recognition of Fonner Memorial Rotunda
1998-1999 - Stuhr 2000 capital campaign
September 1998 - Completion of new collections storage building [collections department occupied new offices in July 2001]
October 8, 1998 - Groundbreaking for Glade Mills
October 19, 1999 - Dedication for Glade Mills
January 2000 - Taylor house moved onto grounds
August 23, 2000 - Sandi Yoder resigns as Executive Director to head Living History Farms
August 4, 2000 - Stuhr honors Bud Wolbach as he retires from the board
September 2000 - Stuhr Museum awarded the Addison E Sheldon Memorial Award by the Nebraska State Historical Society
December 2000 - Fred Goss hired as Executive Director of Stuhr Museum
April 2002 - Susan Gallagher hired as Executive Director of Stuhr Museum
January 2004 - Joe Black hired as Executive Director of Stuhr Museum
April 2004 - NETV's "American Experience" program films at Stuhr
June 2004 - Eakes Family, Windolph Family, City of Grand Island Hired Man's House moved onto the grounds
October 2004 - Stuhr wins "Outstanding Event" Award from the Nebraska Department of Travel and Tourism (Christmas Past & Present)
August 2008 - Merit Badge University comes to Stuhr
February 2009 - Stuhr releases "The Leschinsky Photographs" book
March 2009 - "Quilted Conscience" project comes to Stuhr Museum
October 2009 - Stuhr receives $500,0i00 from the Reynolds Foundation to expand administrative area
October 2009 - Gloria and S.N. "Bud" Wolbach Entry Marquee dedicated
December 2009 - Stuhr wins Hampton Inn's "Save A Landmark" competition
May 2010 - GAR Monument dedicated in Railroad Town
May 2010 - "Lest We Forget" Military Timeline hosted at Stuhr