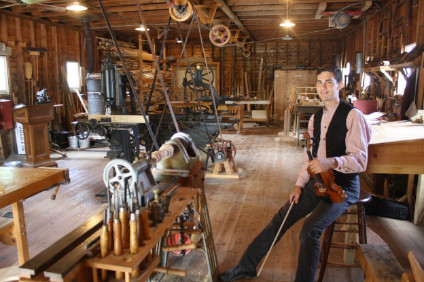 Welcome to Railroad Town, Nebr.!
Stuhr Museums 19th Century Living History Community opened on Monday, May 1, 2017. The town will be staffed with living historians who will be in the homes and businesses of town, going about their business but never too busy to stop and talk about the town and their time. There is much to explore in Railroad Town, but for those wanting to plan your day at Stuhr Museum a little more, every day will include hands-on activities for everyone to take part in that help you experience  aspects of plains life in the 19th Century.
And the year is… 1897. Here are some Facts from that year:
In January Martha Hughes Cannon the 1st woman state senator in US (Utah) takes office,  and the Gold Standard is endorsed at the National Monetary conference.
In February Harrisburg, Penn. Destroyed by fire; Pres. Cleveland signs bill establishing Washington and Mount Rainier as National Forest with 20 million acres, and as one of his last acts in office, President Cleveland vetoed a bill that would have required all immigrants to take literacy tests.
In March the 3rd is the last day in office for Pres. Grover Cleveland (D) and Vice Pres. Adlai E. Stevenson, and the 4th is the first day in office for William McKinley from Ohio (R) with Vice-Pres. Garret Hobart, Lawyer from New Jersey; This was the First Inaugural ceremony recorded by a motion picture camera McKinley was the First President to have a glass enclosed reviewing stand, and this was the First inaugural at which Congress hosted a luncheon for the President & Vice Pres. The 1st known intercollegiate basketball game was held on the 20th, Yale beats Penn 32-10.
In April the 1st American marathon was ran -  John J. McDermott wins in 2:55:10 (The Boston Marathon); the first reporter, William Price, is assigned to White House and Grant's Tomb is dedicated.
Locally, in May Leo B. Stuhr graduated from Grand Island Senior High School.
Other Firsts or News of Note include:
*First American subway opened in Boston
*Felix Hoffman synthesized a form of acetylsalicylic acid that enabled the mass production of aspirin two years later.
*A gelatin coined the name of Jell-O and hit the shelves
*Smuckers Apple butter crocks was first sold by Jerome Monroe Smucker from his cider mill in Orrville, Ohio
*Campbell Soup Company's Pres. John T. Dorrance hired his nephew Arthur Dorrance and he came up with condensing the soup.  Tomato soup was one of the firsts along with chicken and oxtail, brought the cost of canned soup from 34c to 10 cents.
*Charles William Post developed Grape-Nuts
*There is talk of annexing the Hawaiian Island, but it is only in the debating stages.  Will not come into effect till Aug 12, 1898.
*Machinists and coal miners strike for reform in working conditions and pay.
*Spain and U.S. are threatening war
Books of Note: "Captains Courageous by Rudyard Kipling and Richard Harding Davis's "Soldiers of Fortune"
Railroad Town will look at the year 1897 during the course of the summer of 2017!
---
Below is a map of Railroad Town, Nebr. that you can download and print.