Blacksmith I Class
9 am - 5 pm Saturday, April 6 and Sunday, April 7
Members - $120   Non Members - $130
To register, call (308) 385-5316 ext. 207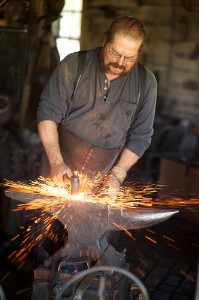 Learn the time honored art of blacksmithing during a two-day, hands-on class at Stuhr Museum. 
"Blacksmith I″ spans two days and will be held for both members and nonmembers of the museum. This class is designed for those with no metal working experience. During this class, participants will create items using a coal forge as well as become skilled at the tempering process and basic hammer techniques.
This class is a unique opportunity to find out how metalworking was done over one hundred years ago and how blacksmithing is still relevant today. No experience is necessary for this class.
The cost is $120 for Stuhr members and $130 for nonmembers. To register or for more information call (308) 385-5316 ext. 207.